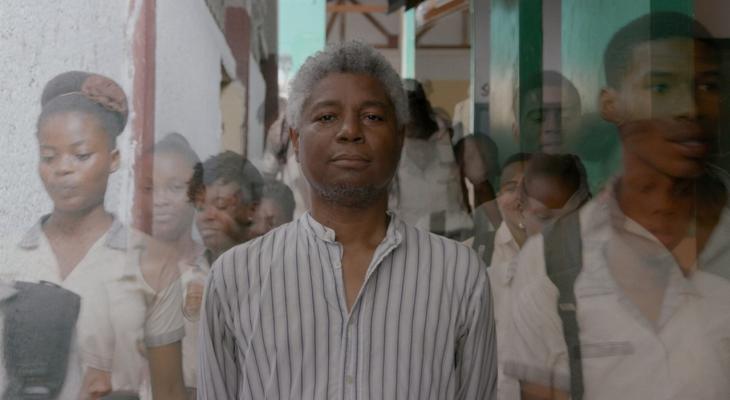 Feb
25
Spotlight on Québec: Kenbe la, jusqu'à la victoire (Kenbe La, Until We Win) VOD // Hot Docs at Home
Some dreamers have the power to inspire us, bring us together, and help us reconnect with our humanity. Meet Alain Philoctète, a Haitian artist, poet and activist who dreams of building a permaculture project in his native country. Taking us from his adopted homeland of Quebec to the lush landscapes of Haiti, we follow Philoctète through his hopes and struggles—including an untimely diagnosis that will alter his fate. Winner of the People's Choice Award at RIDM 2019, Will Prosper's documentary is a moving meditation on the challenges of exile and the extraordinary power of resilience, told with a splendid musical score.
In French and Haitian with English subtitles
This program is presented by SODEC, in collaboration with the Montreal International Documentary Festival (RIDM).
______________________________________________________
Il est de ces personnes dont les rêves inspirent, rassemblent et font fleurir un peu plus d'humanité en chacun de nous. Haïtien établi au Québec, l'artiste et militant Alain Philoctète retourne dans son pays d'origine pour y développer un projet de permaculture. Atteint d'un cancer, Alain doit cependant suivre des traitements à Montréal, où il trouve auprès de ses proches autant de solidarité qu'en Haïti. Tourné entre la somptueuse nature haïtienne et les paysages glacés du Québec, Kenbe la, jusqu'à la victoire (Prix du Public, RIDM 2019) révèle l'extraordinaire dévouement d'un homme animé par son désir de transmission. Ponctuée d'une splendide trame sonore, l'histoire racontée par le réalisateur Will Prosper en est une de résilience, mais aussi celle d'une victoire.
En français et haïtien avec sous-titres en anglais
Ce programme est présenté par la SODEC en collaboration avec les RIDM (Rencontres internationales du documentaire de Montréal).
______________________________________________________
Spotlight on Québec: With a distinct artistic sensibility and richness of diverse stories, Québec has earned a reputation as one of the most vibrant cinematic regions in the country. Explore la Belle Province through this selection of festival favourites and hidden gems from across the province, curated in partnership with the Montreal International Documentary Festival (RIDM).
This free title is available exclusively to Members. Join our community to unlock access to this and more free premium programming on Hot Docs at Home each month.
Hot Docs Ted Rogers Cinema
DETAILS
Hot Docs Ted Rogers Cinema
(416) 637-3123
506 Bloor St West
Toronto ON M5S 1Y3
Canada
DATE & TIME
-
[ Add to Calendar ]
2021-02-25 17:00:00
2021-04-30 03:59:00
Spotlight on Québec: Kenbe la, jusqu'à la victoire (Kenbe La, Until We Win) VOD // Hot Docs at Home
<p>Some dreamers have the power to inspire us, bring us together, and help us reconnect with our humanity. Meet Alain Philoctète, a Haitian artist, poet and activist who dreams of building a permaculture project in his native country. Taking us from his adopted homeland of Quebec to the lush landscapes of Haiti, we follow Philoctète through his hopes and struggles—including an untimely diagnosis that will alter his fate.</p>
506 Bloor St West
Toronto ON M5S 1Y3
Canada
Bloor St. Culture Corridor
info@perceptible.com
America/Toronto
public