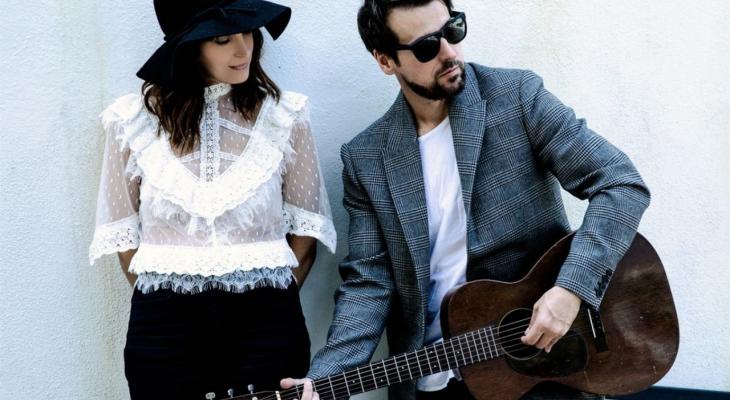 May
18
Celebrating Canadian Music // I'm Going To Break Your Heart VOD // Hot Docs at Home
Their romance made headlines as Canada's beautiful young rock royalty, but nearly two decades and three children later, Our Lady Peace frontman Raine Maida and singer-songwriter Chantal Kreviazuk struggle – like most people – with their relationship. Filmed on France's picturesque Saint Pierre et Miquelon island, I'm Going to Break Your Heart immerses you in the duo's musical union on their journey to find their way back to each other, reckoning with longstanding wounds and heartaches along the way. Can music save their love?
Presented in partnership with the Canadian Music Week Conference, with the support of The Slaight Family Foundation.
Celebrating Canadian Music: In anticipation of the moment we can return to live concerts, show your love for Canada's music community and rock out from home with some of the country's favourite artists, past, present and future. Curated in partnership with the Canadian Music Week Conference, streaming worldwide from May 18-21.
This free title is available exclusively to Hot Docs Members and attendees of the Canadian Music Week Conference.  Join our community to unlock access to this and more free premium programming on Hot Docs at Home each month.
CMW Delegates: Enter the promo code provided at checkout to redeem your complimentary entry.
Hot Docs Ted Rogers Cinema
DETAILS
Hot Docs Ted Rogers Cinema
(416) 637-3123
506 Bloor St West
Toronto ON M5S 1Y3
Canada
DATE & TIME
-
[ Add to Calendar ]
2021-05-18 04:00:00
2021-05-22 03:59:00
Celebrating Canadian Music // I'm Going To Break Your Heart VOD // Hot Docs at Home
<p>Their romance made headlines as Canada's beautiful young rock royalty, but nearly two decades and three children later, Our Lady Peace frontman Raine Maida and singer-songwriter Chantal Kreviazuk struggle – like most people – with their relationship. Filmed on France's picturesque Saint Pierre et Miquelon island, <em>I'm Going to Break Your Heart</em> immerses you in the duo's musical union on their journey to find their way back to each other, reckoning with longstanding wounds and heartaches along the way. Can music save their love?</p>
506 Bloor St West
Toronto ON M5S 1Y3
Canada
Bloor St. Culture Corridor
info@perceptible.com
America/Toronto
public