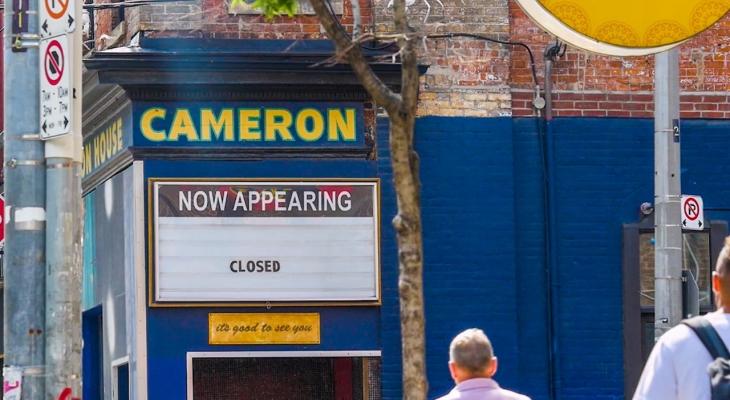 May
06
Celebrating Canadian Music // No Tickets at the Door VOD // Hot Docs at Home
Streaming premiere!
One of the hardest hit industries by COVID-19, the live music scene has been delt a devastating blow, leaving our favourite concert venues—and the communities they serve—facing an existential reckoning. Will they be able to recover? While there is struggle, there is also creative resilience. Right here in Toronto, meet the talented indie musicians, promoters and venues that are fighting to survive and persevere amid the ongoing lockdown and the overwhelming effects of gentrification. Featuring renowned underground rockers like Sook-Yin Lee, Dan Burke, Luna Li, and Vypers, owners of historic venues like the Horseshoe Tavern, as well as local champions of the arts, No Tickets At The Door examines the importance of music communities in the modern age, and what is at stake if a city is no longer hospitable towards them.
Presented in partnership with the Canadian Music Week Conference, with the support of The Slaight Family Foundation. Promotional partner: Wavelength Music.
Celebrating Canadian Music: In anticipation of the moment we can return to live concerts, show your love for Canada's music community and rock out from home with some of the country's favourite artists, past, present and future. Curated in partnership with the Canadian Music Week Conference, streaming worldwide from May 18-21.
This free title is available exclusively to Hot Docs Members and attendees of the Canadian Music Week Conference.  Join our community to unlock access to this and more free premium programming on Hot Docs at Home each month.
CMW Delegates: Enter the promo code provided at checkout to redeem your complimentary entry.
Hot Docs Ted Rogers Cinema
DETAILS
Hot Docs Ted Rogers Cinema
(416) 637-3123
506 Bloor St West
Toronto ON M5S 1Y3
Canada
DATE & TIME
-
[ Add to Calendar ]
2021-05-06 16:00:00
2021-07-07 03:59:00
Celebrating Canadian Music // No Tickets at the Door VOD // Hot Docs at Home
<p><strong>Streaming premiere!</strong></p>
506 Bloor St West
Toronto ON M5S 1Y3
Canada
Bloor St. Culture Corridor
info@perceptible.com
America/Toronto
public