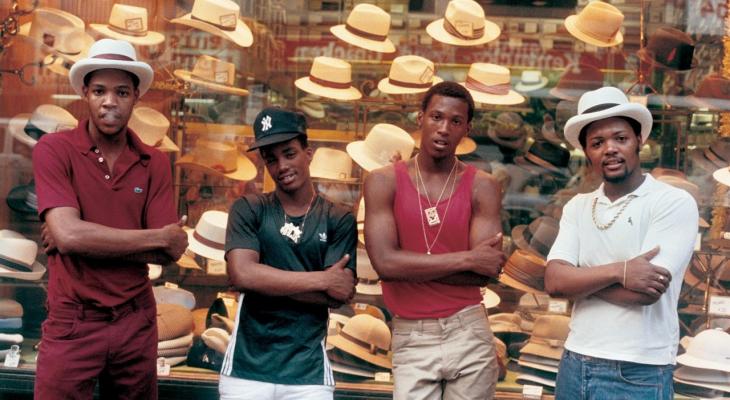 Aug
31
Jamel Shabazz: Street Photographer VOD // Hot Docs at Home
Though Anthony Bourdain travelled all over the world, no place stacked up quite like New York, the place he called home. And no artist has captured the energy and history of the city quite like photographer Jamel Shabazz. Long before "street style" as we now know it, Shabbaz documented the city's burgeoning hip-hop culture of the 1980s, immortalizing the music and style pioneers that would later make it a worldwide phenomenon. More than just vintage shots of kids rocking sneakers, his vital images of joy and community have hundreds of stories behind them. Director Charlie Ahearn, of the seminal graffiti movie Wild Style (also playing), gives voice to these images through interviews with Shabazz himself, Fab 5 Freddy, legendary rapper KRS-One, and many others.
Fun fact: Anthony Bourdain used Shabazz's photos for inspiration on the Bronx episode of his award-winning show, Parts Unknown.
A Tribute to Anthony Bourdain: In conjunction with the premiere of Roadrunner: A Film About Anthony Bourdain, explore the many sides of the inimitable chef, storyteller and adventurer on Hot Docs at Home. Featuring a live Author Event with Bourdain's longtime co-author Laurie Woolever, the curated series includes docs on boundary-breaking cultural icons that embody his same unabashed, punk-rock spirit.
This free title is available exclusively to Hot Docs Members. Join now and save with our limited-time membership offer!
Hot Docs Ted Rogers Cinema
DETAILS
Hot Docs Ted Rogers Cinema
(416) 637-3123
506 Bloor St West
Toronto ON M5S 1Y3
Canada
DATE & TIME
-
[ Add to Calendar ]
2021-08-31 04:00:00
2021-10-29 03:59:00
Jamel Shabazz: Street Photographer VOD // Hot Docs at Home
<p>Though Anthony Bourdain travelled all over the world, no place stacked up quite like New York, the place he called home. And no artist has captured the energy and history of the city quite like photographer Jamel Shabazz. Long before "street style" as we now know it, Shabbaz documented the city's burgeoning hip-hop culture of the 1980s, immortalizing the music and style pioneers that would later make it a worldwide phenomenon. More than just vintage shots of kids rocking sneakers, his vital images of joy and community have hundreds of stories behind them.</p>
506 Bloor St West
Toronto ON M5S 1Y3
Canada
Bloor St. Culture Corridor
info@perceptible.com
America/Toronto
public
TICKETS