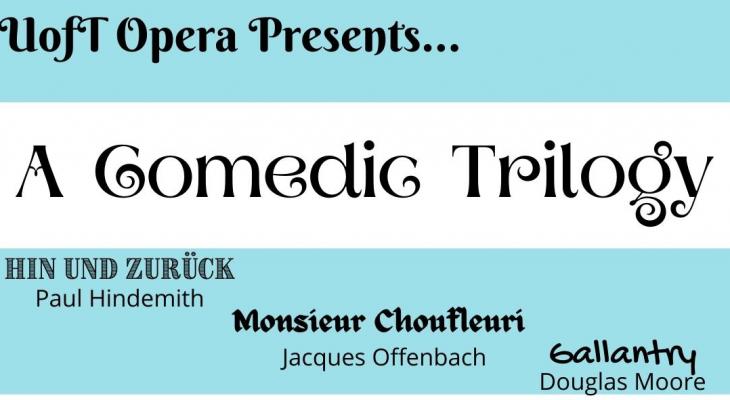 Nov
24
U of T Opera presents A Comedic Trilogy: Hin und Zurück, Monsieur Choufleuri, and Gallantry (Hindemith, Offenbach, Moore)
Three delightful comedies comprise a triple bill beginning with Paul Hindemith's absurdist miniature, Hin und Zurück. Jacques Offenbach's Monsieur Choufleuri, a spoof of a nineteenth century social climber and an operatic performance gone off the rails is followed by Gallantry, Douglas Moore's satire of television's newly created art form, the soap opera. Michael Albano directs and Sandra Horst conducts.
This production is made possible in part by a generous gift from Marina Yoshida.
MacMillan Theatre, 80 Queen's Park, Toronto All MacMillan Theatre productions are given with surtitles™.
$40 adult, $25 senior, $10 student
U of T students are admitted free with a valid TCard, space permitting.
All programs and performers are subject to change.
University of Toronto Faculty of Music
DETAILS
University of Toronto Faculty of Music
(416) 978-3750
80 Queen's Park
Edward Johnson Building
Toronto ON M5S 2C5
Canada
DATE & TIME
-
[ Add to Calendar ]
2022-11-25 00:30:00
2022-11-25 02:00:00
U of T Opera presents A Comedic Trilogy: Hin und Zurück, Monsieur Choufleuri, and Gallantry (Hindemith, Offenbach, Moore)
<p>Three delightful comedies comprise a triple bill beginning with Paul Hindemith's absurdist miniature, <em>Hin und Zurück</em>. Jacques Offenbach's <em>Monsieur Choufleuri</em>, a spoof of a nineteenth century social climber and an operatic performance gone off the rails is followed by <em>Gallantry</em>, Douglas Moore's satire of television's newly created art form, the soap opera. Michael Albano directs and Sandra Horst conducts.</p> <p><em>This production is made possible in part by a generous gift from Marina Yoshida.</em></p>
80 Queen's Park
Edward Johnson Building
Toronto ON M5S 2C5
Canada
Bloor St. Culture Corridor
info@perceptible.com
America/Toronto
public
TICKETS