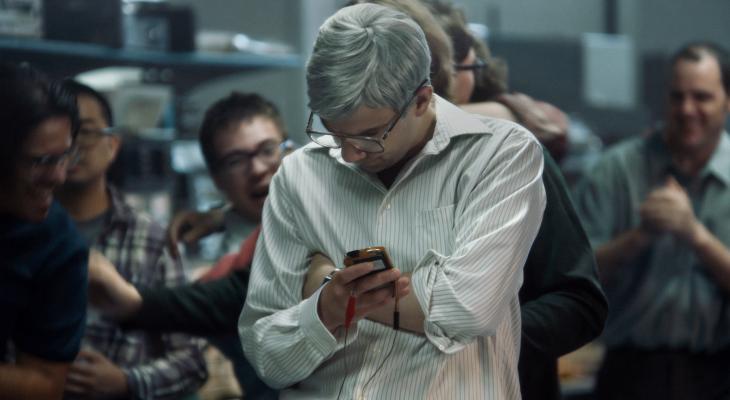 Jun
09
Blackberry + Q&A w director Matt Johnson and writer Matt Miller
Every era has its visionaries, and Blackberry, co-written by Toronto director Matt Johnson and producer Matthew Miller, investigates the brilliance of the individuals that invented the world's first smartphone.
It's 1996, and Mike Lazaridis (Jay Baruchel) and his business partner and best friend Douglas Fregin (Matt Johnson) are on the edge of creating the world's first smartphone. Unfortunately for them, they struggle to keep their company afloat. Everything changes when cunning businessman Jim Balsillie (Glenn Howerton) agrees to join the company, bringing with him the money and experience needed to create and sell a prototype of their invention.
Seemingly overnight the three men revolutionize the way people work, communicate and connect. Celebrities, politicians and businessmen are now addicted to their Blackberrys. The company's value skyrockets, yet within a few short years shady business dealings, personal grievances and the iPhone threaten the company's incredible success.
Join director Matt Johnson and writer Matt Miller for a post-screening Q&A.
Tickets: $15 (Members from $10)
Want more? Check out Blackberry Inspirations. To celebrate the release of Toronto-based filmmaker Matt Johnson's Blackberry, we present this series of films curated by Johnson and his collaborator Matt Miller. All films will include a pre-recorded intro from the duo.
Hot Docs Ted Rogers Cinema
DETAILS
Hot Docs Ted Rogers Cinema
(416) 637-3123
506 Bloor St West
Toronto ON M5S 1Y3
Canada
DATE & TIME
-
[ Add to Calendar ]
2023-06-10 00:00:00
2023-06-10 02:00:00
Blackberry + Q&A w director Matt Johnson and writer Matt Miller
<p>Every era has its visionaries, and <em>Blackberry</em>, co-written by Toronto director Matt Johnson and producer Matthew Miller, investigates the brilliance of the individuals that invented the world's first smartphone.</p>
506 Bloor St West
Toronto ON M5S 1Y3
Canada
Bloor St. Culture Corridor
info@perceptible.com
America/Toronto
public
TICKETS
Member Discount
Under $30