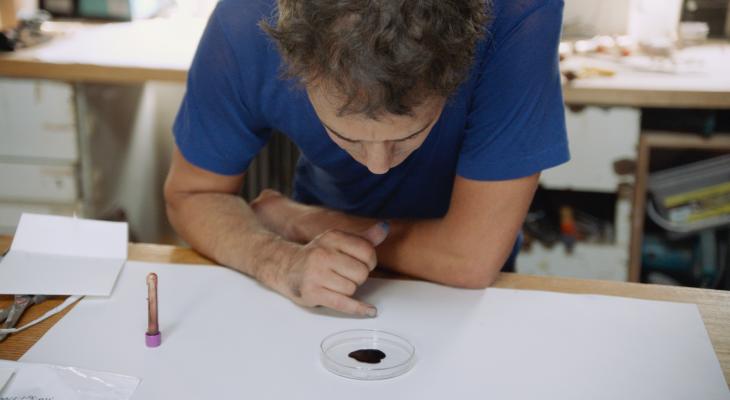 Jun
16
The Colour of Ink
Back by popular demand! In this lush and visually striking film from director Brian D. Johnson (Al Purdy Was Here), see the world through the eyes of Jason Logan, a Toronto-based ink maker whose stunning colours, harvested from natural ingredients like flowers, berries, rock and rust, are coveted by artists around the world.
As the endearingly obsessive Logan prepares custom inks for his eclectic clientele--from Japanese calligraphers and California tattoo artists to New Yorker cartoonist Liana Finck and Toronto's own Margaret Atwood (the recipient of a "Handmaid Red")—we follow him through the dazzling landscapes in which he practices his ancient craft.
Travelling from the hills of Malibu and the marble quarries of Italy back to the Toronto landmarks, like the Leslie Spit and Wycliffe College, where Logan sources his materials, The Colour of Ink offers an immersive cinematic experience that reconnects us to the earth and returns us to a childlike sense of wonder.
In English, Spanish, Japanese with English subtitles. 
Tickets: $15 (Members from $10)
Hot Docs Ted Rogers Cinema
DETAILS
Hot Docs Ted Rogers Cinema
(416) 637-3123
506 Bloor St West
Toronto ON M5S 1Y3
Canada
DATE & TIME
-
[ Add to Calendar ]
2023-06-16 17:00:00
2023-06-18 15:00:00
The Colour of Ink
<p>Back by popular demand! In this lush and visually striking film from director Brian D. Johnson (<em>Al Purdy Was Here</em>), see the world through the eyes of Jason Logan, a Toronto-based ink maker whose stunning colours, harvested from natural ingredients like flowers, berries, rock and rust, are coveted by artists around the world.</p>
506 Bloor St West
Toronto ON M5S 1Y3
Canada
Bloor St. Culture Corridor
info@perceptible.com
America/Toronto
public
TICKETS
Member Discount
Under $30