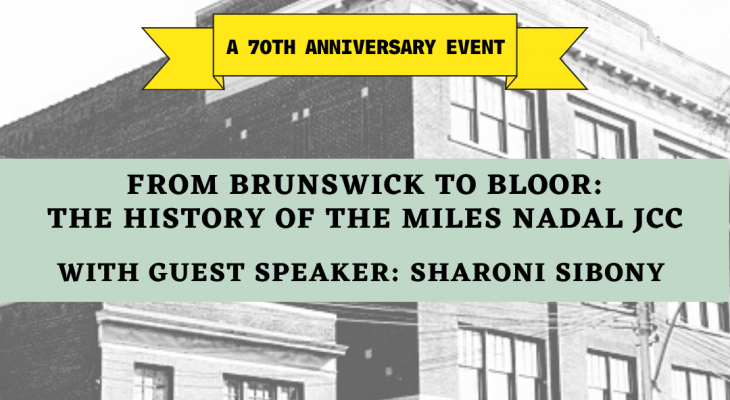 Jun
08
MNjcc 70th Anniversary: From Brunswick to Bloor: The History of the Miles Nadal JCC
From Brunswick to Bloor: The History of the Miles Nadal JCC  Guest speaker:  Sharoni Sibony The downtown Y – as it was affectionately known for decades – grew from humble 1920s and 30s beginnings renting basement rooms on Brunswick and College, to the YM-YWHA with its own building in the 1950s, to the vibrant communal and cultural JCC hub that it is today! Join us in celebrating the 70th anniversary of the Miles Nadal JCC, learn about our rich history, and share your own stories and memories. Refreshments will be served.    Bring in your old Y/JCC photos, programs and/or memorabilia, we will copy them at the event, and add them to our interactive community canvas scrapbook!
Presented by the Miles Nadal Jewish Community Centre, in partnership with the Ontario Jewish Archives. This program is supported by a Resilient Communities Fund grant from the Ontario Trillium Foundation.
This special event is being held in celebration of the Miles Nadal JCC's 70th anniversary, and will be available in-person at the Miles Nadal JCC, as a Zoom simulcast/live stream, and will be recorded. Thursday June 8 1:00-2:30pm  Admission: $10  
For registration assistance, please call the Miles Nadal JCC Information Desk: 416-924-6211 x0 or email help@mnjcc.org
Sharoni Sibony is an experienced and enthusiastic educator across multiple disciplines. She has worked and volunteered in Jewish educational programming and event management at Holy Blossom Temple, the Jewish Community Centres of Toronto, Ashkenaz Festival, Limmud Toronto and the Ontario Jewish Archives: Blankenstein Family Heritage Centre. In particular, she is excited to return to the MNjcc, where she previously served as Manager of the Jewish Life Department and coordinator of the Downtown Jewish Community Council for several years. She has been a lecturer, tour guide, pottery instructor, and book club facilitator in various venues across the Toronto community and is newly also a facilitator with the Jewish Studio Project.
Founded in 1973, the Ontario Jewish Archives, Blankenstein Family Heritage Centre (OJA) is the largest repository of Jewish life in Canada. The OJA's collections span all segments of Ontario's Jewish community, including families, businesses, cultural organizations, and synagogues. These records date from the community's earliest days in the province in the 1850s to the present. The OJA supports a wide range of researchers through its vital work. Through exhibitions, programs, research assistance, and walking tours, the OJA tells the stories of Ontario's Jewish community. You can find us online at https://ontariojewisharchives.org/
Miles Nadal Jewish Community Centre
DETAILS
Miles Nadal Jewish Community Centre
(416) 924-6211
750 Spadina Ave
Toronto ON M5S 2J2
Canada
DATE & TIME
-
[ Add to Calendar ]
2023-06-08 17:00:00
2023-06-08 18:30:00
MNjcc 70th Anniversary: From Brunswick to Bloor: The History of the Miles Nadal JCC
<p><strong>From Brunswick to Bloor: The History of the Miles Nadal JCC </strong> Guest speaker:  <strong>Sharoni Sibony</strong> The downtown Y – as it was affectionately known for decades – grew from humble 1920s and 30s beginnings renting basement rooms on Brunswick and College, to the YM-YWHA with its own building in the 1950s, to the vibrant communal and cultural JCC hub that it is today! Join us in celebrating the 70th anniversary of the Miles Nadal JCC, learn about our rich history, and share your own stories and memories. Refreshments will be served.    <strong>Bring in your old Y/JCC </strong></p>
750 Spadina Ave
Toronto ON M5S 2J2
Canada
Bloor St. Culture Corridor
info@perceptible.com
America/Toronto
public
TICKETS