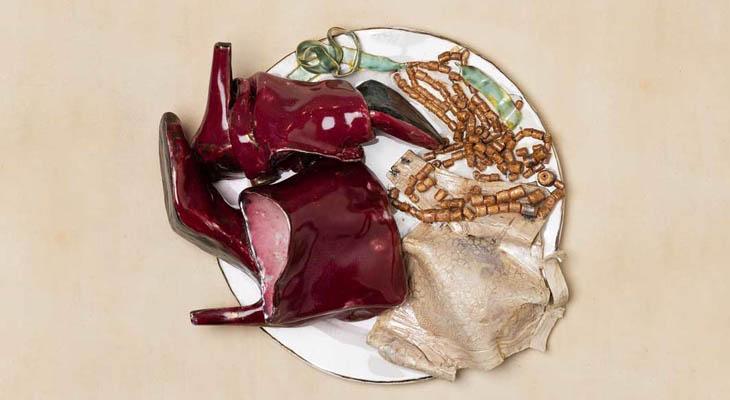 Sep
09
Soaking Wet and On Fire: Ceramics and Painting by Natalka Husar
This lobby exhibition brings together early ceramics and a recent painting by Toronto-based artist Natalka Husar. Widely celebrated as a painter, few people are aware that Husar began her career with a series of ceramic sculptures. On view for the first time in over 40 years, her irreverent depictions of food, clothing, and care packages explore themes of cultural identity and belonging in the Ukrainian-Canadian diaspora. Seen alongside a recent monumental painting, her ceramics are revealed to be instrumental to her formation as an artist.
About Natalka Husar:
Natalka Husar was born in 1951 in New Jersey to Ukrainian immigrant parents. She graduated from Rutgers University in 1973 and that same year moved to Toronto where she lives and works. Husar has exhibited extensively across Canada, is represented in numerous public collections, including the National Gallery of Canada, and has received support from the Canada Council, Ontario Arts Council, Toronto Arts Council, and SSHRC. Husar's earliest exhibited works were trompe l'oeile ceramics, but after working as a flight attendant in the early 1980s, she began painting, with subject matter drawn from travel-work experience, and the paradoxes and conflicts of the Ukrainian émigré experience.
DETAILS
(416) 586-8080
111 Queens Park
Toronto ON M5S 2C7
Canada
DATE & TIME
-
[ Add to Calendar ]
2023-09-09 14:00:00
2024-01-07 22:00:00
Soaking Wet and On Fire: Ceramics and Painting by Natalka Husar
<p>This lobby exhibition brings together early ceramics and a recent painting by Toronto-based artist Natalka Husar. Widely celebrated as a painter, few people are aware that Husar began her career with a series of ceramic sculptures. On view for the first time in over 40 years, her irreverent depictions of food, clothing, and care packages explore themes of cultural identity and belonging in the Ukrainian-Canadian diaspora. Seen alongside a recent monumental painting, her ceramics are revealed to be instrumental to her formation as an artist.</p> <p><strong>About Natalka Husar:</strong></p>
111 Queens Park
Toronto ON M5S 2C7
Canada
Bloor St. Culture Corridor
info@perceptible.com
America/Toronto
public
TICKETS
Senior Discount
Under $30