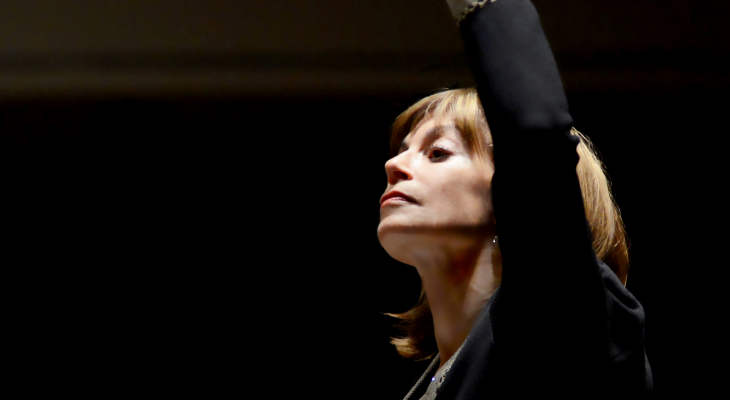 Nov
24
JoAnn Falletta conducts the Royal Conservatory Orchestra: Henry From, piano
Multiple Grammy Award-winning conductor JoAnn Falletta serves as Music Director of the Buffalo Philharmonic Orchestra, Music Director Laureate of the Virginia Symphony Orchestra, Principal Guest Conductor of the Brevard Music Center, and Artistic Adviser of the Hawaii Symphony Orchestra. Upon her appointment as Music Director of the Buffalo Philharmonic, Falletta became the first woman to lead a major American ensemble. She was recently named one of the Fifty Great Conductors, past and present, by Gramophone magazine, and has been hailed for having "Toscanini's tight control over ensemble, Walter's affectionate balancing of inner voices, Stokowski's gutsy showmanship, and a controlled frenzy worthy of Bernstein" by The Washington Post. Ihnatowycz Prize in Piano recipient Henry From, currently enrolled in The Ihnatowycz Piano Program, is also a winner of The Robert W. and G. Ann Corcoran Concerto Competition. Part of the Temerty Orchestral Program at The Glenn Gould School (GGS), the Royal Conservatory Orchestra (RCO) is widely regarded as an outstanding ensemble and one of the best training orchestras in North America. It consists of instrumental students in the undergraduate and graduate programs of The Glenn Gould School. Graduates of the RCO have joined the ranks of the greatest orchestras in the world. 
Program: Johannes Brahms: Piano Concerto No. 1 in D Minor, op. 15 Albert Roussel: "Bacchus et Ariane" Suite No. 2, op. 43 Paul Hindemith: Symphonic Metamorphosis of Themes by Carl Maria von Weber
BECOME A ROYAL SUBSCRIBER! Choose any 4 or more concerts in the 2023.24 Concert Season to create your ideal subscription. You will get the best available seats PLUS discounted ticket prices AND enjoy Royal Subscriber benefits!
DETAILS
(416) 408-0208
273 Bloor Street West
TELUS Centre for Performance and Learning
Toronto ON M5S 1W2
Canada
DATE & TIME
-
[ Add to Calendar ]
2023-11-25 01:00:00
2023-11-25 03:00:00
JoAnn Falletta conducts the Royal Conservatory Orchestra: Henry From, piano
<p>Multiple Grammy Award-winning conductor JoAnn Falletta serves as Music Director of the Buffalo Philharmonic Orchestra, Music Director Laureate of the Virginia Symphony Orchestra, Principal Guest Conductor of the Brevard Music Center, and Artistic Adviser of the Hawaii Symphony Orchestra. Upon her appointment as Music Director of the Buffalo Philharmonic, Falletta became the first woman to lead a major American ensemble.</p>
273 Bloor Street West
TELUS Centre for Performance and Learning
Toronto ON M5S 1W2
Canada
Bloor St. Culture Corridor
info@perceptible.com
America/Toronto
public
TICKETS