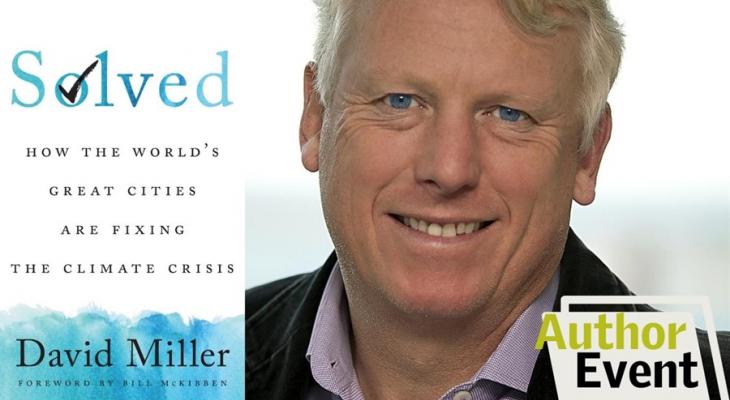 Oct
05
David Miller on How Cities Are Fixing the Climate Crisis // Hot Docs at Home
If our planet is going to survive the climate crisis, we need to act rapidly. Could cities be the solution? At this premiere launch of his powerful new book, Solved, former Mayor of Toronto David Miller will discuss how cities are taking bold new approaches to climate change, offering models for lowering emissions that need to be sped up and scaled. In conversation with CBC's Matt Galloway, Miller will share inspiring sustainability initiatives in places like Los Angeles, Oslo, Shenzhen and Melbourne, as well as right here in Toronto. He'll reveal what both policymakers and citizens must do to make them truly global. An urgent and timely update from one of the world's environmental leaders, don't miss this empowering analysis of what can be done—now, today— to address one of the greatest crises of our time.
David Miller is the Director of International Diplomacy and Global Ambassador of Inclusive Climate Action at C40 Cities Climate Leadership Group, where he is building a global movement for socially equitable action to mitigate climate change. Secure your copy of his new book, Solved, here.
In conversation with Matt Galloway, host of CBC Radio's The Current
Presented in partnership with University of Toronto Press and Indigo.
Hot Docs Ted Rogers Cinema
DETAILS
Hot Docs Ted Rogers Cinema
(416) 637-3123
506 Bloor St West
Toronto ON M5S 1Y3
Canada
DATE & TIME
-
[ Add to Calendar ]
2020-10-05 23:30:00
2020-10-06 00:30:00
David Miller on How Cities Are Fixing the Climate Crisis // Hot Docs at Home
<p>If our planet is going to survive the climate crisis, we need to act rapidly. Could cities be the solution? At this premiere launch of his powerful new book, <em>Solved</em>, former Mayor of Toronto David Miller will discuss how cities are taking bold new approaches to climate change, offering models for lowering emissions that need to be sped up and scaled. In conversation with CBC's Matt Galloway, Miller will share inspiring sustainability initiatives in places like Los Angeles, Oslo, Shenzhen and Melbourne, as well as right here in Toronto.</p>
506 Bloor St West
Toronto ON M5S 1Y3
Canada
Bloor St. Culture Corridor
info@perceptible.com
America/Toronto
public
TICKETS