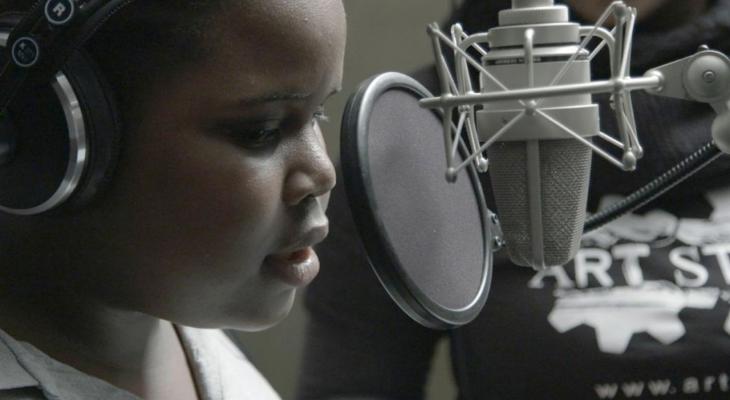 Oct
01
For Viola: Unarmed Verses VOD // Hot Docs at Home
The acclaimed winner of the Best Canadian Feature Documentary Award at Hot Docs 2017, Unarmed Verses follows Francine Valentine, a 12-year-old girl who is just one of many facing eviction from a low-income housing block in Toronto's north-east end due to the impending demolition of their home. With a creative spirit, love for art and perceptive point of view, Francine and other neighbourhood youths turn to creative expression, as they prepare to record music and poetry at a local studio. Director Charles Officer crafts a moving local coming-of-age story about community, adversity, economic disparity and identity that celebrates our bonds and ability to persevere.
For Viola: A new and important screening series centering Black, Indigenous, and People of Colour (BIPOC)-led stories and filmmakers, named in honour of Canadian civil rights icon Viola Desmond. The series seeks to affirm Hot Docs as a space of inclusion for BIPOC creators and audience members alike.
While For Viola will always be presented free of charge, please consider a donation of $10 in recognition of the value of the work presented, and in honour of Viola Desmond, featured on the $10 banknote. As a non-profit, Hot Docs relies on donations like yours to continue to develop and expand inclusive programming and reach wider audiences. Half the proceeds from all donations will be shared directly with the filmmakers, who also receive screening fees. Thank you for your consideration.
Hot Docs Ted Rogers Cinema
DETAILS
Hot Docs Ted Rogers Cinema
(416) 637-3123
506 Bloor St West
Toronto ON M5S 1Y3
Canada
DATE & TIME
-
[ Add to Calendar ]
2020-10-01 16:00:00
2020-10-30 03:59:00
For Viola: Unarmed Verses VOD // Hot Docs at Home
<p>The acclaimed winner of the Best Canadian Feature Documentary Award at Hot Docs 2017, <em>Unarmed Verses</em> follows Francine Valentine, a 12-year-old girl who is just one of many facing eviction from a low-income housing block in Toronto's north-east end due to the impending demolition of their home. With a creative spirit, love for art and perceptive point of view, Francine and other neighbourhood youths turn to creative expression, as they prepare to record music and poetry at a local studio.</p>
506 Bloor St West
Toronto ON M5S 1Y3
Canada
Bloor St. Culture Corridor
info@perceptible.com
America/Toronto
public