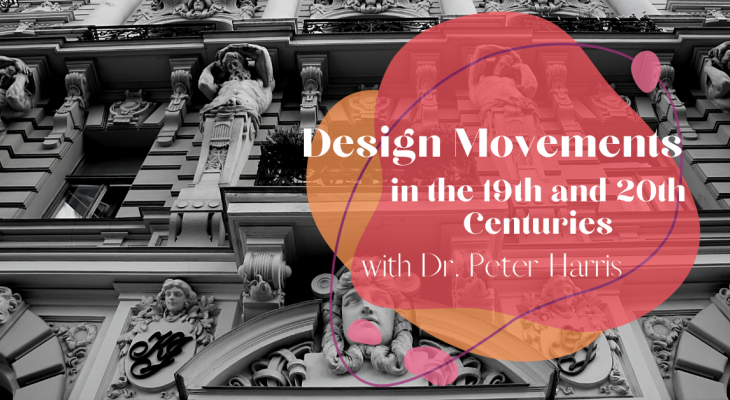 Nov
16
Design Movements in the 19th and 20th Centuries
Guest speaker: Peter Harris  
Experience the wonders of Modern Architecture and Design in this globe-trotting journey through the 19th and 20th centuries.
Beginning in the mid-1800s, we'll study how brilliant artists, architects and designers responded to the technological innovations of the Machine Age, forging bold new aesthetics and influential cultural movements.
From the Arts and Crafts movement of Victorian England to the European refinement of Art Nouveau and Bauhaus to the futuristic designs of postwar California, we'll trace the evolving relationship between humans and machines through art, crafts, household furnishings, architecture and urban planning.
Dr. Peter Harris is the former Assistant Dean of the Faculty of Arts and Science of the University of Toronto. A former senior lecturer in the University's German Department, Dr. Harris has also served as a Special Lecturer in the new Vic One Program at Victoria College. In these different capacities, he has lectured on topics ranging from German Film to Expo '58, from the German Reichstag Building to Rosie the Riveter. Peter was the Program Coordinator and Lecturer for U of T's Later Life Learning. He has lectured for the George Brown Seniors Association, LifeLong Learning Mississauga, Bluewater Association of Lifelong Learning in Owen Sound, Life Long Learning in Retirement at Glendon College, and at Hot Docs Curious Minds series. At the Miles Nadal JCC, Peter has given the fascinating lectures "From The Binoculars Building to Bilbao & Beyond: The Starchitecture of Frank Gehry" and "The Bauhaus: 100 years of Architecture, Art and Design", and we are very pleased to welcome him to the virtual Miles Nadal JCC this fall.
DETAILS
DATE & TIME
-
[ Add to Calendar ]
2020-11-16 13:00:00
2020-12-01 04:55:00
Design Movements in the 19th and 20th Centuries
<p><strong>Guest speaker: Peter Harris  </strong></p> <p>Experience the wonders of Modern Architecture and Design in this globe-trotting journey through the 19th and 20th centuries.</p> <p>Beginning in the mid-1800s, we'll study how brilliant artists, architects and designers responded to the technological innovations of the Machine Age, forging bold new aesthetics and influential cultural movements.</p>
Bloor St. Culture Corridor
info@perceptible.com
America/Toronto
public
TICKETS