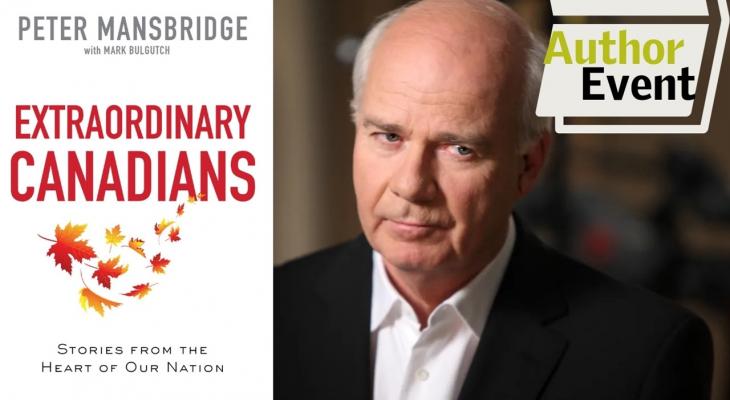 Nov
26
Peter Mansbridge and Bob Rae on Extraordinary Canadians // Hot Docs at Home
In this live Hot Docs exclusive, Peter Mansbridge, the cherished former anchor of CBC's The National, joins Bob Rae, Canada's Ambassador to the United Nations, to discuss his new collection of first-person stories about remarkable Canadians who embody the values of our great nation. Featuring voices from all walks of life—advocates, doctors, veterans, immigrants, and more—Extraordinary Canadians celebrates the people who have overcome adversity and broken down barriers to champion the rights and freedoms of everyone who calls Canada home. As they share these timely and heartwarming stories, Mansbridge and Rae will also discuss their own years of national leadership—and the lessons we can all draw from the inspirational people across our country, who are each, in their own way, making Canada a better place for all.
In conversation with the Honourable Bob Rae, Ambassador and Permanent Representative of Canada to the United Nations (UN) in New York. The former Premier of Ontario and former interim Leader of the Liberal Party of Canada, Rae is a widely respected writer, educator, lawyer and mediator with a focus on First Nations and governance issues,who is now taking these skills to the world stage at the UN in New York
Peter Mansbridge, one of Canada's most respected journalists, is the former chief correspondent for CBC News and anchor of CBC's The National and Mansbridge One on One. Mansbridge's honours include a lifetime achievement award from the Academy of Canadian Screen and Television, an Office of the Order of Canada, and the Queen Elizabeth II Diamond Jubilee Medal. He is a bestselling author, popular podcaster, and regular contributor in national media.
In Partnership with Simon and Schuster and Indigo. Order your copy of Extraordinary Canadians here.
Tickets: Free for Hot Docs Members, $6.99 for non-members
Hot Docs Ted Rogers Cinema
DETAILS
Hot Docs Ted Rogers Cinema
(416) 637-3123
506 Bloor St West
Toronto ON M5S 1Y3
Canada
DATE & TIME
-
[ Add to Calendar ]
2020-11-27 00:30:00
2020-11-27 01:30:00
Peter Mansbridge and Bob Rae on Extraordinary Canadians // Hot Docs at Home
<p>In this live Hot Docs exclusive, Peter Mansbridge, the cherished former anchor of CBC's <em>The National</em>, joins Bob Rae, Canada's Ambassador to the United Nations, to discuss his new collection of first-person stories about remarkable Canadians who embody the values of our great nation. Featuring voices from all walks of life—advocates, doctors, veterans, immigrants, and more—<em>Extraordinary Canadians</em> celebrates the people who have overcome adversity and broken down barriers to champion the rights and freedoms of everyone who calls Canada home.</p>
506 Bloor St West
Toronto ON M5S 1Y3
Canada
Bloor St. Culture Corridor
info@perceptible.com
America/Toronto
public
TICKETS