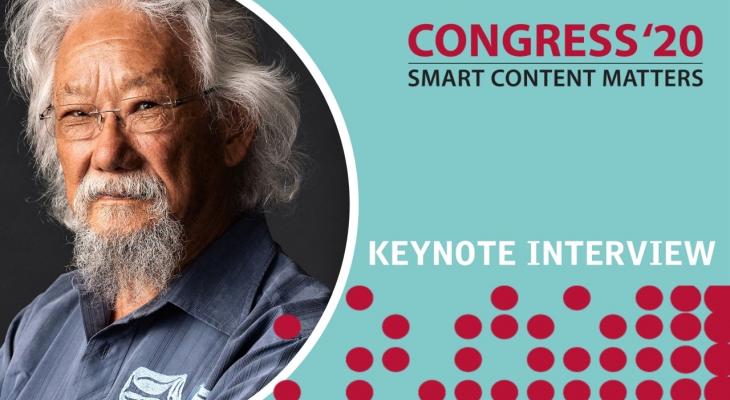 Dec
31
In Conversation with David Suzuki // Hot Docs at Home
For almost two decades, Hot Docs has partnered to present the World Congress of Science & Factual Producers, the world's preeminent conference and meeting place for science communicators, broadcasters, and producers. We are excited to offer Hot Docs Members exclusive access to a handpicked selection of keynote interviews that were recorded at Congress' first virtual edition in December, touching on some of the most urgent and engaging issues facing the science world today. In this installment, award-winning geneticist, television host and environmental activist Dr. David Suzuki discusses his decades-long career fighting for a sustainable future—as well as the impact of the pandemic—as he celebrates the 60th anniversary of his longtime CBC science program, Nature of Things.
In conversation with Luisa Neubauer, climate activist, author and leader of the "Fridays For Future" school strike movement, and science broadcaster and author Ziya Tong.
This free title is available exclusively to Hot Docs Members. Join our community to unlock access to this and more free premium programming on Hot Docs at Home each month.
Hot Docs Ted Rogers Cinema
DETAILS
Hot Docs Ted Rogers Cinema
(416) 637-3123
506 Bloor St West
Toronto ON M5S 1Y3
Canada
DATE & TIME
-
[ Add to Calendar ]
2020-12-31 17:00:00
2021-02-26 04:59:00
In Conversation with David Suzuki // Hot Docs at Home
<p>For almost two decades, Hot Docs has partnered to present the World Congress of Science &amp; Factual Producers, the world's preeminent conference and meeting place for science communicators, broadcasters, and producers. We are excited to offer Hot Docs Members exclusive access to a handpicked selection of keynote interviews that were recorded at Congress' first virtual edition in December, touching on some of the most urgent and engaging issues facing the science world today. In this installment, award-winning geneticist, television host and environmental activist Dr.</p>
506 Bloor St West
Toronto ON M5S 1Y3
Canada
Bloor St. Culture Corridor
info@perceptible.com
America/Toronto
public
TICKETS