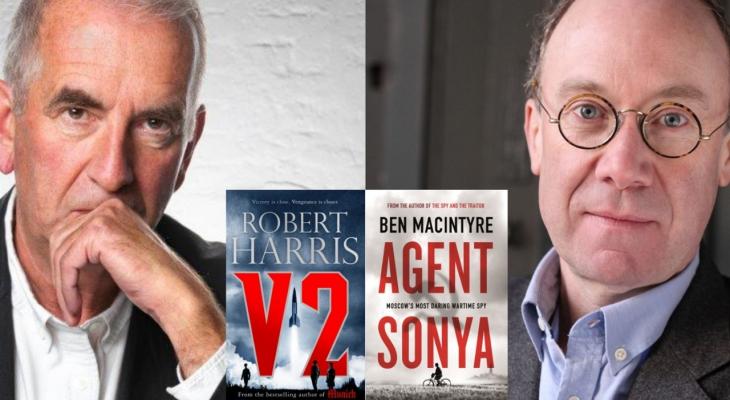 Dec
06
Robert Harris and Ben Macintyre on Bringing History to Life
Robert Harris is one of the world's acclaimed novelists, renowned for wildly popular World War Two thrillers (Fatherland, Enigma) that marry intrepid research and high-octane storytelling. Ben Macintyre is a master storyteller whose rollicking non-fiction portraits of wartime spies (Operation Mincemeat, The Spy and the Traitor) have won rave reviews—and a permanent place on the bestseller lists. In this Hot Docs exclusive, these brilliant minds will stream in live from the UK to discuss their common passion for history and their exciting new books: Harris's V2, a riveting novel set against the backdrop of the Nazi bombing of London; and Macintyre's Agent Sonya, the true story behind the Cold War's most daring female spy. 
In conversation with Jessica Johnson, Executive Editor and Creative Director of The Walrus.
In partnership with Penguin Random House Canada and Indigo
Tickets: Free for Hot Docs Members, $6.99 for non-members
Books by our two featured authors are now available to order via our partners at Indigo!  Purchase your copy of Robert Harris' V2 here.  |  Purchase your copy of Ben Macintyre's Agent Sonya here.
Hot Docs Ted Rogers Cinema
DETAILS
Hot Docs Ted Rogers Cinema
(416) 637-3123
506 Bloor St West
Toronto ON M5S 1Y3
Canada
DATE & TIME
-
[ Add to Calendar ]
2020-12-06 20:30:00
2020-12-06 21:30:00
Robert Harris and Ben Macintyre on Bringing History to Life
<p>Robert Harris is one of the world's acclaimed novelists, renowned for wildly popular World War Two thrillers (<em>Fatherland, Enigma</em>) that marry intrepid research and high-octane storytelling.</p>
506 Bloor St West
Toronto ON M5S 1Y3
Canada
Bloor St. Culture Corridor
info@perceptible.com
America/Toronto
public
TICKETS