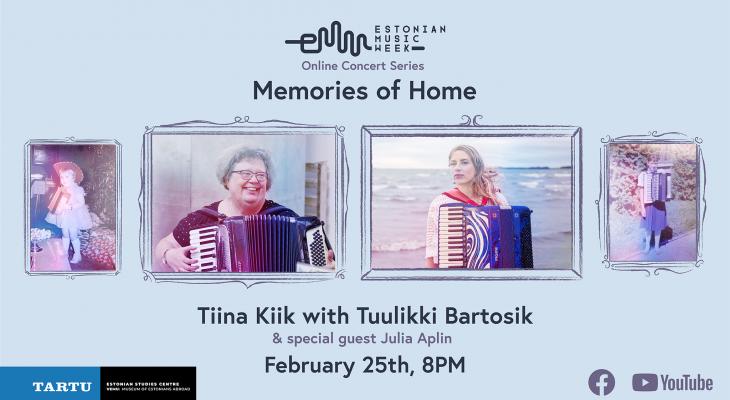 Feb
25
Memories of Home Online Concert: Tiina Kiik with Tuulikki Bartosik
Estonian Music Week will be premiering their 'Memories of Home' online concert series with performances by accordionists Tiina Kiik & Tuulikki Bartosik with special guest, dancer Julia Aplin. The Memories of Home Concert Series embraces the duality of having roots in one country while starting afresh in another. In the current climate of reflection, such memories are more precious than ever. We asked artists to show us what memories of home mean to them. Together, we embark on a multi-disciplinary journey exploring the recollections of place through music, dance and film.
The Memories of Home Live-stream Concert Series begins with two female performers central to expanding the sonic capabilities and breaking through genre barriers of the accordion. Toronto-based musician and educator Tiina Kiik reimagines contemporary classical compositions for the accordion bringing unexpected textures to the instruments. Anchoring the concert, Kiik appears live from Tartu College in Toronto.
Estonian accordionist and composer Tuulikki Bartosik is slated to record a special performance for the concert. The series of Bartosik's original compositions is a meditation on her rural homeland of Rõuge, Estonia, and her travels around the world as a performing artist. Fast becoming one of the world's leading contemporary accordionists, Bartosik draws inspiration for her music from ancient Scandinavian and Ugric tradition. Bartosik will be streaming from the ancient St Catherine's Monastery which is one of Tallinn's oldest buildings, founded by Dominican monks back in 1246. The monastery once had its own brewery and hospital, but was destroyed in 1524. The church, which actually sits inside the monastery is currently used for concerts and theatre performances.
The concert is free to stream for all on the EMW Facebook page and the VEMU YouTube Channel
DETAILS
DATE & TIME
-
[ Add to Calendar ]
2021-02-26 01:00:00
2021-02-26 02:00:00
Memories of Home Online Concert: Tiina Kiik with Tuulikki Bartosik
<p lang="en-US" xml:lang="en-US" xml:lang="en-US">Estonian Music Week will be premiering their 'Memories of Home' online concert series with performances by accordionists Tiina Kiik &amp; Tuulikki Bartosik with special guest, dancer Julia Aplin. The Memories of Home Concert Series embraces the duality of having roots in one country while starting afresh in another. In the current climate of reflection, such memories are more precious than ever. We asked artists to show us what memories of home mean to them.</p>
Bloor St. Culture Corridor
info@perceptible.com
America/Toronto
public