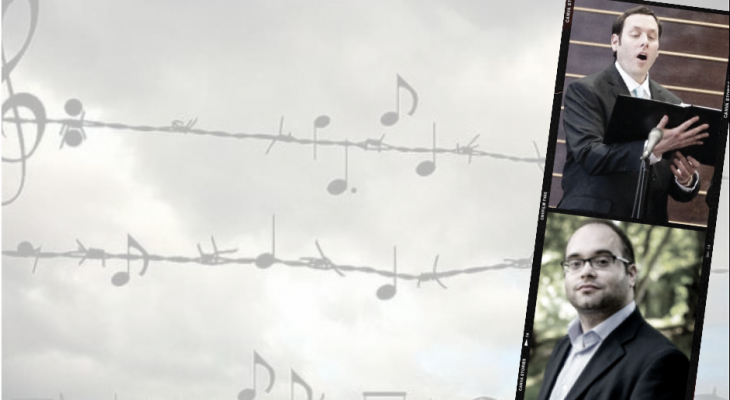 Apr
08
Yom HaShoah Commemoration
This concert commemorating Holocaust Remembrance Day will feature Yiddish and Hebrew songs that were composed in the ghettos and concentration camps, and sung by prisoners, partisans, and survivors as anthems of courage, defiance and hope. This event will include a special candle lighting dedication presented by the Grade 6 class of the Paul Penna Downtown Jewish Community School. Presented in partnership with Beth Tzedec Congregation. Generously sponsored by the MNjcc Music Scholarship and Innovation Fund. 
Musical guests: Cantor Sidney Ezer and Asher Farber 
Born and raised in Toronto, Sidney Ezer is privileged to be serving as the Beth Tzedec Congregation Cantor for the past 9 years. Having an Ashkenazi as well as an Iraqi Jewish background, Cantor Ezer has striven to study and share with others the beauty of various Jewish musical traditions. He is able to chant Torah in the Ashkenazi, Baghdadi, Moroccan, Yerushalmi, and Spanish Portuguese traditions, and often incorporates diverse melodies in his davening. Cantor Ezer is currently part of the close harmony quartet "The Wizards of Ashkenaz", formed with three of his fellow graduates from cantorial school. They periodically perform concerts which feature various Jewish musical styles, from cantorial to Israeli pop, Yiddish, Sephardic, comedy, and even Jewish Blues.
Asher Farber is a freelance pianist, collaborator and teacher. Currently the conductor for the MNjcc Daytime Choir, Asher began working at the Miles Nadal 6 years ago, accompanying the Daytime Choir under the baton of Gillian Stecyk. Asher is also the accompanist for the MNjcc Community Choir. Although Asher is classically trained, educated, and inspired, he regularly collaborates alongside many different soloists, singers, instrumentalists, ensembles, and bands in many different musical styles.
Cantor Ezer and Asher have performed together at several Adult Daytime events, including Celebrating the Poetry of Simcha Simchovitch and Celebrating Shabbat in Song, and we are very pleased to welcome them to the virtual Miles Nadal JCC this spring.
DETAILS
DATE & TIME
-
[ Add to Calendar ]
2021-04-08 17:30:00
2021-04-08 19:00:00
Yom HaShoah Commemoration
<p>This concert commemorating Holocaust Remembrance Day will feature Yiddish and Hebrew songs that were composed in the ghettos and concentration camps, and sung by prisoners, partisans, and survivors as anthems of courage, defiance and hope. This event will include a special candle lighting dedication presented by the Grade 6 class of the Paul Penna Downtown Jewish Community School. Presented in partnership with Beth Tzedec Congregation. Generously sponsored by the MNjcc Music Scholarship and Innovation Fund. </p> <p><strong>Musical guests: Cantor Sidney Ezer and Asher Farber </strong></p>
Bloor St. Culture Corridor
info@perceptible.com
America/Toronto
public
TICKETS