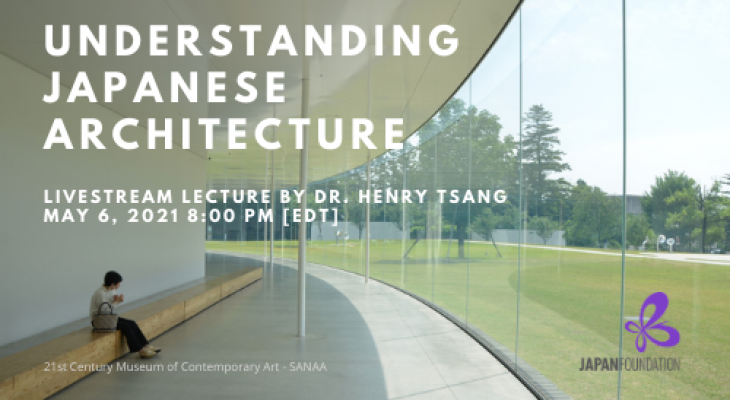 May
06
Understanding Japanese Architecture
Livestream Lecture 
Join us for a lecture that will introduce audiences to architecture from Japan and understanding the spaces and buildings designed by Japanese architects. The talk by Dr. Henry Tsang with visuals will be followed with a Q+A.
Dr. HENRY TSANG
Assistant Professor, Athabasca University, RAIC Centre for Architecture Registered Architect, OAQ, MRAIC, LEED GA, WELL AP B.Sc.Arch (McGill), M.Arch (McGill), Ph.D (UTokyo)
Dr. Henry Tsang is an award-winning architect and assistant professor in the RAIC Centre for Architecture at Athabasca University in Alberta. His design and research projects investigate the social, cultural, and environmental impacts of architecture in the context of Canadian and Asian cities. In particular, he is a subject matter expert of Japanese Architecture.
Detail: https://jftor.org/event/dr-henry-tsang/
Register here: https://jftor.org/event/dr-henry-tsang/#registration
The Japan Foundation, Toronto
DETAILS
The Japan Foundation, Toronto
(416) 966-1600
2 Bloor Street East
Suite 300
Toronto ON M4W 1A8
Canada
DATE & TIME
-
[ Add to Calendar ]
2021-05-07 00:00:00
2021-05-07 01:00:00
Understanding Japanese Architecture
<p><strong>Livestream Lecture </strong></p> <p>Join us for a lecture that will introduce audiences to architecture from Japan and understanding the spaces and buildings designed by Japanese architects. The talk by Dr. Henry Tsang with visuals will be followed with a Q+A.</p> <h2><em><strong>Dr. HENRY TSANG</strong></em></h2> <p>Assistant Professor, Athabasca University, RAIC Centre for Architecture Registered Architect, OAQ, MRAIC, LEED GA, WELL AP B.Sc.Arch (McGill), M.Arch (McGill), Ph.D (UTokyo)</p>
2 Bloor Street East
Suite 300
Toronto ON M4W 1A8
Canada
Bloor St. Culture Corridor
info@perceptible.com
America/Toronto
public