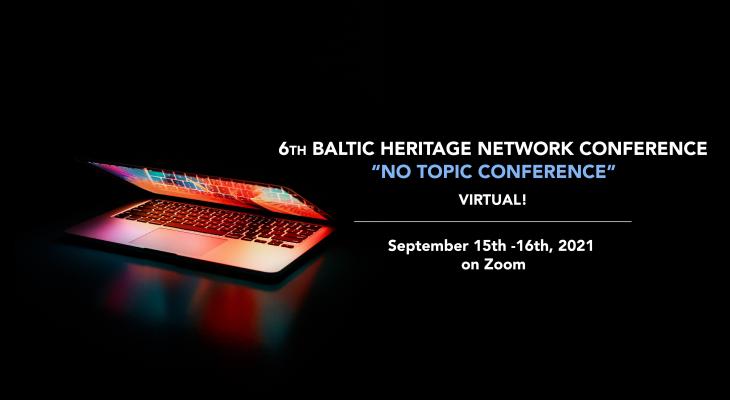 Sep
15
6th BaltHerNet conference "No Topic Conference"
2021 marks 15 years since the first conference focused on the archives of Baltic people abroad. The 6th BaltHerNet conference "No Topic Conference" will take place September 15th-16th on Zoom.
We have adjusted the event schedule to adapt as much as possible to everyone's time zones. Sessions will take place according to Estonian, Latvian, and Lithuanian time from 9:30pm-midnight on September 15 and from 9:00pm-midnight on September 16.
The conference recording can be viewed at a later time at https://www.balther.net/
The last year has changed the world quite drastically. On our two-day conference we will discuss in what position has the pandemic situated memory institutions and communities of Baltic people abroad, including their archives groups, and what could we take from this experience. What new ways of working and new methods have been used? How has the pandemic affected the lives and livelihood of diaspora communities?
The conference will be in English.
Register in advance for the conference here: https://us06web.zoom.us/.../reg.../WN_FxJiT-C3T6SuFz52WevfhA
After registering, you will receive a confirmation email containing information about joining the webinar.
Participation in the conference is free.
The conference is supported by the Compatriots Program (Estonian Ministryof Education and Research), the National Archives of Estonia, and the Museum of Estonians Abroad (VEMU).
All those interested across the globe are welcome!
DETAILS
DATE & TIME
-
[ Add to Calendar ]
2021-09-15 18:30:00
2021-09-16 21:15:00
6th BaltHerNet conference "No Topic Conference"
<p>2021 marks 15 years since the first conference focused on the archives of Baltic people abroad. The 6th BaltHerNet conference "No Topic Conference" will take place September 15th-16th on Zoom.</p> <p>We have adjusted the event schedule to adapt as much as possible to everyone's time zones. Sessions will take place according to Estonian, Latvian, and Lithuanian time from 9:30pm-midnight on September 15 and from 9:00pm-midnight on September 16.</p>
Bloor St. Culture Corridor
info@perceptible.com
America/Toronto
public