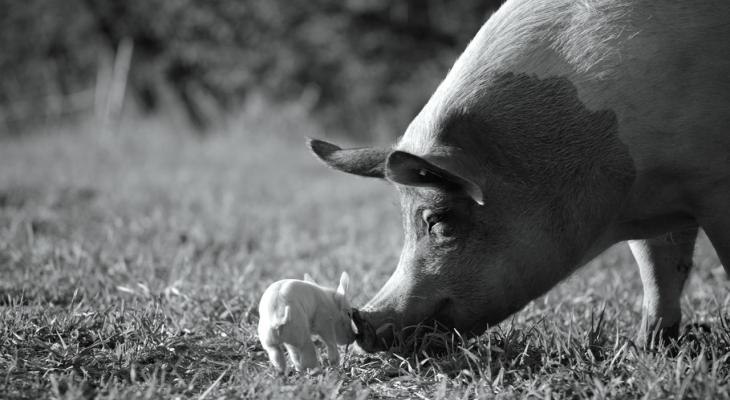 Sep
10
Gunda // Hot Docs Cinema
"A work of genius…this is a film that finds beauty everywhere" (The Guardian). Shortlisted for a 2020 Academy Award and executive produced by Joaquin Phoenix, this experiential masterpiece offers an intimate look at the daily lives of a sow and her rambuctious piglets, a one-legged chicken and a herd of cows on a farm in Norway. Using transcendent black and white cinematography, and an entirely wordless soundtrack, acclaimed director Viktor Kossakovsky (Aquarela) invites you to slow down and view the world as these wondrous creatures do: with a magical patience and an other-worldly perspective. Along the way, Gunda also asks us to meditate on the mystery of animal consciousness—and reckon with the role humanity plays in it.
Watching in person? View our health & safety measures here.
Tickets Watch in Cinema: $15 (Member pricing starting at $10) Watch Online: $9.99 (Member pricing starting at $7.99)
Become a Hot Docs Member now and save with our limited-time membership offer!
Hot Docs Ted Rogers Cinema
DETAILS
Hot Docs Ted Rogers Cinema
(416) 637-3123
506 Bloor St West
Toronto ON M5S 1Y3
Canada
DATE & TIME
-
[ Add to Calendar ]
2021-09-10 21:30:00
2021-09-13 20:00:00
Gunda // Hot Docs Cinema
<p>"A work of genius…this is a film that finds beauty everywhere" (<em>The Guardian</em>). Shortlisted for a 2020 Academy Award and executive produced by Joaquin Phoenix, this experiential masterpiece offers an intimate look at the daily lives of a sow and her rambuctious piglets, a one-legged chicken and a herd of cows on a farm in Norway.</p>
506 Bloor St West
Toronto ON M5S 1Y3
Canada
Bloor St. Culture Corridor
info@perceptible.com
America/Toronto
public
TICKETS