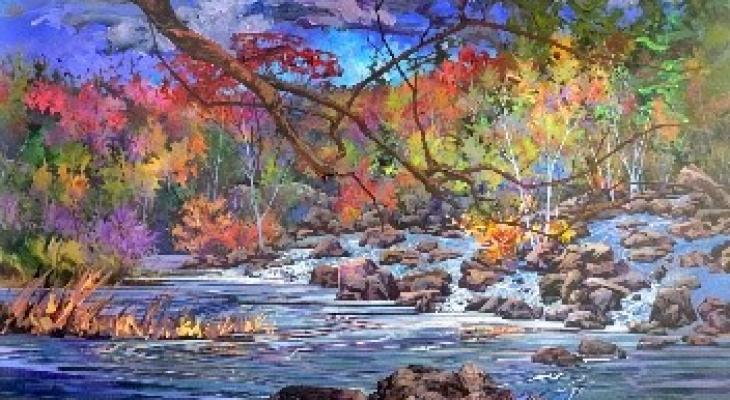 Oct
27
Artist Hand Workshop led by Andrew Cheddie Sookrah "The Ontario Landscape in Acrylics"
Artist Hand Workshop
Led by Andrew Cheddie Sookrah, CSPWC, OSA, SCA, PSC 
The Ontario Landscape in Acrylics
ONLINE Oct. 27, 1-4 pm
$25 Members  $30 Non-Members
Join artist Andrew Cheddie Sookrah for an exciting exploration of Acrylic when painting the Ontario Landscape.
Leveraging the attributes of this versatile medium while working from a supplied reference image, learn how to analyze, interpret and move beyond the obvious to develop a vibrant painting using bold, confident, intuitive colour and informed brushstrokes.
Refine your ability to create impactful design and composition, extracting only necessary information from your reference.  Working from one of Andrew's images taken on his extensive travels on northern Ontario, you will create a painting with that WOW factor…
Drawing techniques, perspective, composition, colour, texture, use of material will be explored.
Andrew will be providing constant support, feedback and guidance for the entirety.                     
For further information, materials list, and to register, contact…
Women's Art Association of Canada
Women's Art Association of Canada (WAAC)
DETAILS
Women's Art Association of Canada (WAAC)
416-922-2060
23 Prince Arthur Ave
Toronto ON M5R1B2
Canada
DATE & TIME
-
[ Add to Calendar ]
2021-10-27 17:00:00
2021-10-27 20:00:00
Artist Hand Workshop led by Andrew Cheddie Sookrah "The Ontario Landscape in Acrylics"
<h3> </h3> <h3> </h3> <h3><strong>Artist Hand Workshop</strong></h3> <h3><strong>Led by Andrew Cheddie Sookrah, CSPWC, OSA, SCA, PSC </strong></h3> <h2><strong>The Ontario Landscape in Acrylics</strong></h2> <p><strong>ONLINE Oct. 27, 1-4 pm</strong></p> <p><strong>$25 Members  $30 Non-Members</strong></p> <p>Join artist Andrew Cheddie Sookrah for an exciting exploration of Acrylic when painting the Ontario Landscape.</p>
23 Prince Arthur Ave
Toronto ON M5R1B2
Canada
Bloor St. Culture Corridor
info@perceptible.com
America/Toronto
public