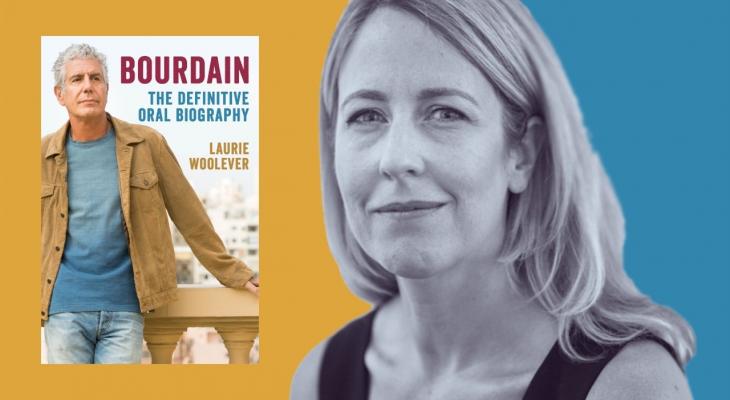 Oct
14
The Many Sides of Tony: Laurie Woolever on Bourdain: The Definitive Oral Biography // Hot Docs at Home
Presented alongside the premiere of Roadrunner, the acclaimed new bio-doc on Anthony Bourdain, this author talk with his longtime co-author Laurie Woolever, will explore the enduring legacy of this cultural tastemaker and her new book on his life, Bourdain: The Definitive Oral Biography. An unprecedented view into Bourdain's world, the book is a rollicking account of his early years in New York, the genesis of his game-changing memoir Kitchen Confidential, and his emergence as a writing and television personality, fueled by hundreds of interviews with the people who knew him best, as well as close family members and collaborators. Join one of Bourdain's most intimate confidantes for a behind scenes look at the many sides of Tony—a brilliant, vulnerable and complicated man whose passion for travelling, eating and telling people's stories touched the lives of fans all across the planet.
Laurie Woolever's book is available to purchase online at Indigo Books. Get your copy here.
Presented in partnership with HarperCollins Canada.
A Tribute to Anthony Bourdain: In conjunction with the premiere of Roadrunner: A Film About Anthony Bourdain, explore the many sides of the inimitable chef, storyteller and adventurer on Hot Docs at Home. Featuring a live Author Event with Bourdain's longtime co-author Laurie Woolever, the curated series includes docs on cultural icons that embody his same boundary-breaking, punk-rock spirit.
Tickets Watch Online: $6.99 (Hot Docs Members: Free) Become a member now and watch for free with our limited-time membership offer!
Hot Docs Ted Rogers Cinema
DETAILS
Hot Docs Ted Rogers Cinema
(416) 637-3123
506 Bloor St West
Toronto ON M5S 1Y3
Canada
DATE & TIME
-
[ Add to Calendar ]
2021-10-14 23:30:00
2021-10-15 00:30:00
The Many Sides of Tony: Laurie Woolever on Bourdain: The Definitive Oral Biography // Hot Docs at Home
<p>Presented alongside the premiere of <a href="https://boxoffice.hotdocs.ca/websales/pages/info.aspx?evtinfo=155334~fff311b7-cdad-4e14-9ae4-a9905e1b9cb0"><em>Roadrunner</em></a>, the acclaimed new bio-doc on Anthony Bourdain, this author talk with his longtime co-author Laurie Woolever, will explore the enduring legacy of this cultural tastemaker and her new book on his life, <em>Bourdain: The Definitive Oral Biography</em>.</p>
506 Bloor St West
Toronto ON M5S 1Y3
Canada
Bloor St. Culture Corridor
info@perceptible.com
America/Toronto
public
TICKETS