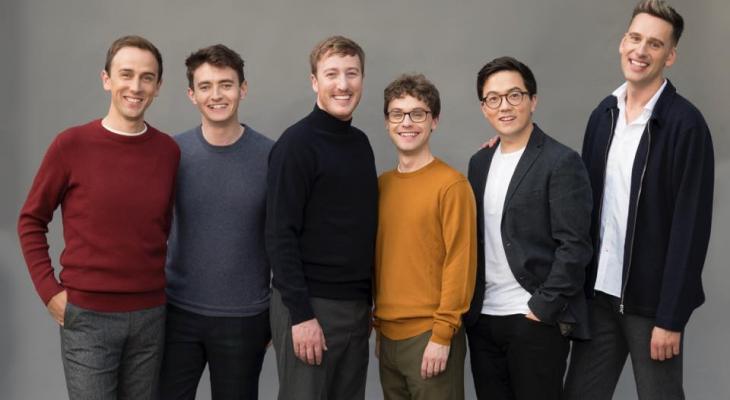 Feb
12
The King's Singers: Finding Harmony
An afternoon of iconic anthems of struggle and revolution through history, commissioned by and for The King's Singers, who have become one of the most frequent guests in Koerner Hall's 12 seasons. 
Singing together binds us together. From the Protestant Reformation in Europe during the 1500s to the U.S. Civil Rights Movement, there have been countless moments in history when songs have united nations, cultures, and causes. This is still the case in today's world.
Finding Harmony is evidence that music has always been our common language. A unique collection of pieces that span the globe – including music that is too often forgotten – each song is the key to a powerful true story about who we are and how we got here. Together, Finding Harmony proves how deeply we can be moved by all kinds of stories when songs connect us to them, to each other, and to the places we come from.
Program:
I have a dream
Mahalia Jackson: If I Can Help Somebody (arr: Stacey V. Gibbs)
Harry Dixon Loes: This Little Light of Mine (arr. Stacey V. Gibbs)
U2: M. L. K. (arr. Bob Chilcott)
The Singing Revolution
Urmas Sisask: Heliseb väljadel
Gustav Ernesaks: Mu isamaa on minu arm
Veljo Tormis: Pärismäälase lauluke
The Many Sounds of Georgia
King Demetrius I of Georgia: Shen khar venakhi
Traditional: Tsintskaro
Traditional: Shemokmedura
Lost Songs of the Highlands
Traditional: Loch Lomond (arr. David Overton)
John Víkingur: Chí mi na mórbheanna (arr. James MacMillan)
Traditional: Puirt a' bheul: Amadan gorach - Tha Flonnlagh - Chuirinn Air (arr. Daryl Runswick)
The Musical Reformation
Martin Luther and Johann Sebastian Bach: Ein feste Burg
William Byrd: Civitas sancti tui
Thomas Tallis: God, Grant With Grace
Spear of the Nation
Traditional: Medley of South African Freedom Songs (arr. Neo Muyanga)
The people left behind
Leyb Yampolsky: S'Dremlen feygl (arr. Toby Young)
In our time
A selection of pieces that show how music continues to unite societies in some of the struggles of today's world
This concert was originally scheduled for Sunday, February 21, 2021.
DETAILS
(416) 408-0208
273 Bloor Street West
TELUS Centre for Performance and Learning
Toronto ON M5S 1W2
Canada
DATE & TIME
-
[ Add to Calendar ]
2022-02-13 01:00:00
2022-02-13 03:00:00
The King's Singers: Finding Harmony
<p>An afternoon of iconic anthems of struggle and revolution through history, commissioned by and for The King's Singers, who have become one of the most frequent guests in Koerner Hall's 12 seasons. </p> <p>Singing together binds us together. From the Protestant Reformation in Europe during the 1500s to the U.S. Civil Rights Movement, there have been countless moments in history when songs have united nations, cultures, and causes. This is still the case in today's world.</p>
273 Bloor Street West
TELUS Centre for Performance and Learning
Toronto ON M5S 1W2
Canada
Bloor St. Culture Corridor
info@perceptible.com
America/Toronto
public
TICKETS