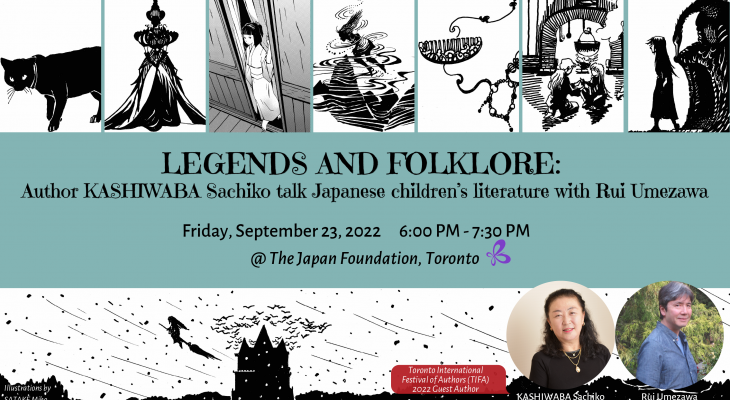 Sep
23
Legends and Folklore: Author KASHIWABA Sachiko talk Japanese children's literature with Rui Umezawa
KASHIWABA Sachiko, celebrated writer of Japanese children's and young adult fiction, is coming to Toronto! 
Ms. Kashiwaba will sit down with Canadian author Rui Umezawa to discuss Japanese folklore, the importance of passing down cultural stories, differences between traditional tales and modern fantasy stories, and much more! The speakers will discuss Temple Alley Summer (2021), the first of Ms. Kashiwaba's novels to be translated into English and the winner of the 2022 Mildred L. Batchelder Award, as well as other works Ms. Kashiwaba hopes to introduce to the English readership. Audience members will have an opportunity to ask Ms. Kashiwaba their own questions during the Q+A.
Registration is required. Event is free.
Ms. Kashiwaba is a guest author at the 2022 Toronto International Festival of Authors. 
The Japan Foundation, Toronto
DETAILS
The Japan Foundation, Toronto
(416) 966-1600
2 Bloor Street East
Suite 300
Toronto ON M4W 1A8
Canada
DATE & TIME
-
[ Add to Calendar ]
2022-09-23 22:00:00
2022-09-23 23:30:00
Legends and Folklore: Author KASHIWABA Sachiko talk Japanese children's literature with Rui Umezawa
<p>KASHIWABA Sachiko, celebrated writer of Japanese children's and young adult fiction, is coming to Toronto! </p>
2 Bloor Street East
Suite 300
Toronto ON M4W 1A8
Canada
Bloor St. Culture Corridor
info@perceptible.com
America/Toronto
public