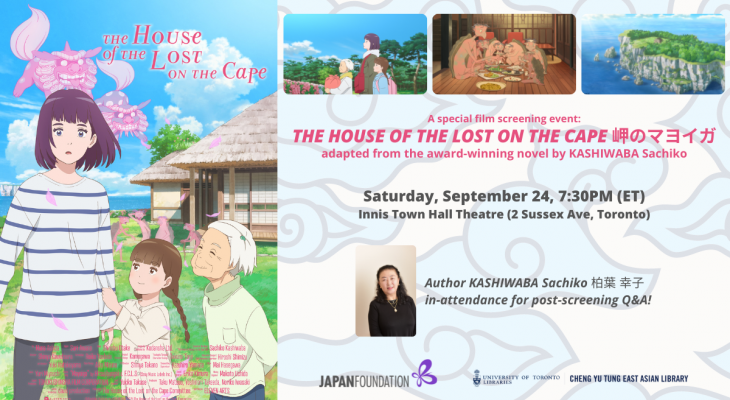 Sep
24
Screening of Animated Film, The House of the Lost on the Cape
17-year-old run-away Yui and 8-year-old Hiyori, who lost her family and her voice, have no place to go when they run into Kiwa, a strange old lady. She offers them a place to stay, in a slightly banged-up old house overlooking the sea, a Mayoiga. Despite joining Kiwa on a whim, the two girls find comfort in Mayoiga, a legendary house, said to look after lost travelers, and the warm hospitality of Kiwa. Both girls' damaged hearts begin to heal little by little. Until one day, a variety of strange beings which Kiwa calls "Fushigitto" begin popping up around the house.
Author KASHIWABA Sachiko will be signing books from 7:00-7:30 prior to the screening, and she will also be in-attendance for a Q&A after the screening.
Screening will take place at Innis Town Hall Theatre!! Tickets: $5 with discount code "FRIENDSOFJFT"
Purchase tickets here: https://www.eventbrite.ca/e/the-house-of-the-lost-on-the-cape-special-f…
This event is a co-presentation with the Cheng Yu Tung East Asian Library.
The Japan Foundation, Toronto
DETAILS
The Japan Foundation, Toronto
(416) 966-1600
2 Bloor Street East
Suite 300
Toronto ON M4W 1A8
Canada
DATE & TIME
-
[ Add to Calendar ]
2022-09-24 23:30:00
2022-09-25 01:00:00
Screening of Animated Film, The House of the Lost on the Cape
<p>17-year-old run-away Yui and 8-year-old Hiyori, who lost her family and her voice, have no place to go when they run into Kiwa, a strange old lady. She offers them a place to stay, in a slightly banged-up old house overlooking the sea, a Mayoiga. Despite joining Kiwa on a whim, the two girls find comfort in Mayoiga, a legendary house, said to look after lost travelers, and the warm hospitality of Kiwa. Both girls' damaged hearts begin to heal little by little. Until one day, a variety of strange beings which Kiwa calls "Fushigitto" begin popping up around the house.</p>
2 Bloor Street East
Suite 300
Toronto ON M4W 1A8
Canada
Bloor St. Culture Corridor
info@perceptible.com
America/Toronto
public