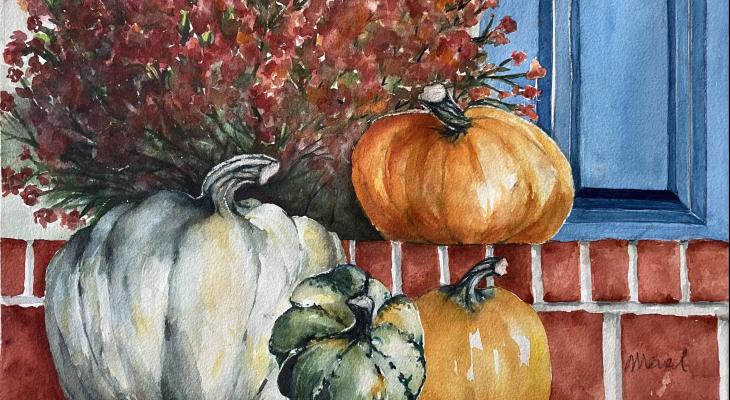 Nov
02
Meral Altinbilek: Scenes From Nature: Original Watercolours
The Women's Art Association of Canada is pleased to present Scenes From Nature: Original Watercolours by WAAC Member Artist Meral Altinbilek.
"I am passionate about watercolour. I love the transparency and glow that shows on paper. But, for me, the most fascinating thing about watercolour is its spontaneity that still surprises me after 40 years in this medium. In my paintings, I want to express my feelings rather than describe a scene or repeat what I see in nature. When painting in still life, recollections from my heritage such as ethnic Turkish rugs, copper pots, ceramic designs and folk dancers takes me back to my childhood. My art inspiration and ideas come largely from the nature – flowers, trees, rocks and sunsets. The freedom to shape a flower I see in nature into what I imagine pleases me very much. If I paint two paintings, one will be birch trees…those white, fascinating, forever peeling birch trees enchant me."
From November 2 to 12, 2022
RUTH UPJOHN GALLERY
23 Prince Arthur Ave.
Gallery Hours: Tuesday to Thursday, 11am to 5pm.
Women's Art Association of Canada (WAAC)
DETAILS
Women's Art Association of Canada (WAAC)
416-922-2060
23 Prince Arthur Ave
Toronto ON M5R1B2
Canada
DATE & TIME
-
[ Add to Calendar ]
2022-11-02 15:00:00
2022-11-12 22:00:00
Meral Altinbilek: Scenes From Nature: Original Watercolours
<p> </p> <h3>The Women's Art Association of Canada is pleased to present Scenes From Nature: Original Watercolours by WAAC Member Artist Meral Altinbilek.</h3> <p> </p>
23 Prince Arthur Ave
Toronto ON M5R1B2
Canada
Bloor St. Culture Corridor
info@perceptible.com
America/Toronto
public