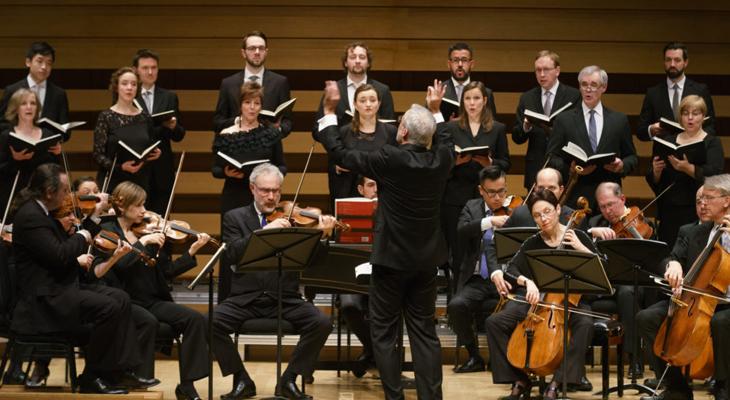 Dec
16
Handel Messiah
Experience the humanity and goodwill of Handel's beloved choral masterpiece.
Nothing conjures the festive season like Tafelmusik's performances of Handel's Messiah! We can't wait to gather together to rekindle this cherished annual holiday tradition—one that has been deeply missed over the past two years.
Handel's Messiah transcends cultural, geographic, and religious boundaries with its message of charity, peace, goodwill, and sacrifice. It also contains some of the most uplifting, touching, and magnificent music ever composed.
Ivars Taurins once again leads the Orchestra, Chamber Choir, and a stellar cast of soloists in the resplendent acoustics of Koerner Hall. Join us for this long-awaited reunion to experience the intimacy and expanse of Handel's beloved choral masterpiece, performed with Tafelmusik's trademark vitality and passion.
Takes place at Koerner Hall, TELUS Centre
DETAILS
DATE & TIME
-
[ Add to Calendar ]
2022-12-17 00:30:00
2022-12-18 00:30:00
Handel Messiah
<h2>Experience the humanity and goodwill of Handel's beloved choral masterpiece.</h2> <p>Nothing conjures the festive season like Tafelmusik's performances of Handel's <em>Messiah</em>! We can't wait to gather together to rekindle this cherished annual holiday tradition—one that has been deeply missed over the past two years.</p> <p>Handel's <em>Messiah</em> transcends cultural, geographic, and religious boundaries with its message of charity, peace, goodwill, and sacrifice. It also contains some of the most uplifting, touching, and magnificent music ever composed.</p>
Bloor St. Culture Corridor
info@perceptible.com
America/Toronto
public
TICKETS