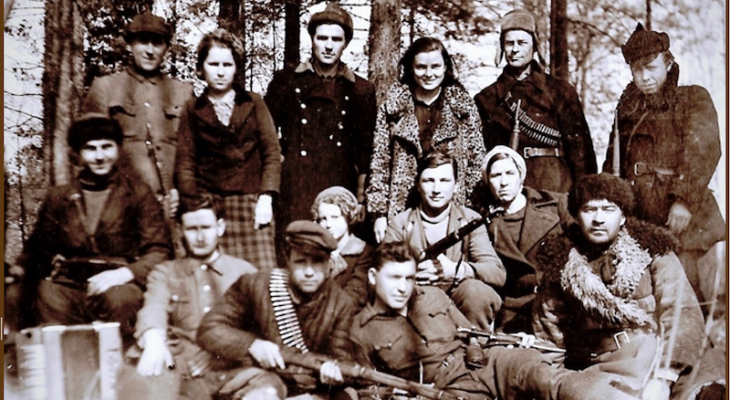 Mar
24
Four Winters: A Story of Jewish Partisan Resistance & Bravery in WWII
"All I owned was my camera, leopard coat, rifle and a grenade in case I'm captured...the pillow was the rifle, the walls were the trees and the sky was the roof," says Faye Schulman, one of over 25,000 Jewish partisans who fought back against the Nazis and their collaborators from deep within the forests of WWII's Eastern Europe, Ukraine and Belarus. Against extraordinary odds, they escaped the Nazis, transforming from young innocents raised in closely-knit families to courageous resistance fighters. The last surviving partisans tell their stories of resistance in Four Winters, revealing a stunning narrative of heroism and resilience.
Tickets: $15 (Members from $10)

Presented in partnership with the Toronto Jewish Film Foundation.
Hot Docs Ted Rogers Cinema
DETAILS
Hot Docs Ted Rogers Cinema
(416) 637-3123
506 Bloor St West
Toronto ON M5S 1Y3
Canada
DATE & TIME
-
[ Add to Calendar ]
2023-03-24 19:30:00
2023-04-02 15:00:00
Four Winters: A Story of Jewish Partisan Resistance & Bravery in WWII
<p>"All I owned was my camera, leopard coat, rifle and a grenade in case I'm captured...the pillow was the rifle, the walls were the trees and the sky was the roof," says Faye Schulman, one of over 25,000 Jewish partisans who fought back against the Nazis and their collaborators from deep within the forests of WWII's Eastern Europe, Ukraine and Belarus. Against extraordinary odds, they escaped the Nazis, transforming from young innocents raised in closely-knit families to courageous resistance fighters.</p>
506 Bloor St West
Toronto ON M5S 1Y3
Canada
Bloor St. Culture Corridor
info@perceptible.com
America/Toronto
public
TICKETS
Member Discount
Under $30