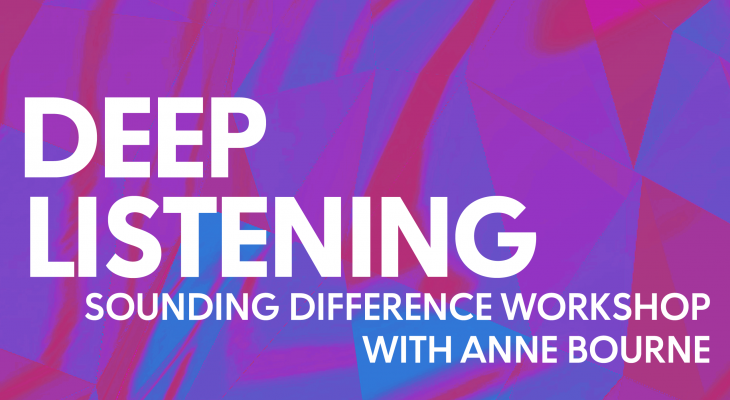 Mar
01
Sounding Difference / Listening Care
An open level listening and sounding event for a collective creative experience.
The text scores of Pauline Oliveros are spoken word instructions that are accessible to all: they propose listening strategies and voice toning based on the universal system of seven vowels, the breath, and one's own senses as sources for collective improvisation. We use Oliveros' thought on listening as multi sensory perception as care, as a map for social and environmental evolution, and as self-organizing sonic beauty.
This will be an experiential gathering to focus on well being and inclusivity in relation to listening attention: to our environment and the more than human sound field, in a memory archive and creative imaginative world making sense. 
Deep Listening® materials of Oliveros are registered and used by permission of the Pauline Oliveros Trust.
DETAILS
(416) 204-1080
918 Bathurst Street
Toronto ON M5R 3G5
Canada
DATE & TIME
-
[ Add to Calendar ]
2023-03-02 00:00:00
2023-03-02 02:00:00
Sounding Difference / Listening Care
<h5>An open level listening and sounding event for a collective creative experience.</h5> <p>The text scores of Pauline Oliveros are spoken word instructions that are accessible to all: they propose listening strategies and voice toning based on the universal system of seven vowels, the breath, and one's own senses as sources for collective improvisation. We use Oliveros' thought on listening as multi sensory perception as care, as a map for social and environmental evolution, and as self-organizing sonic beauty.</p>
918 Bathurst Street
Toronto ON M5R 3G5
Canada
Bloor St. Culture Corridor
info@perceptible.com
America/Toronto
public