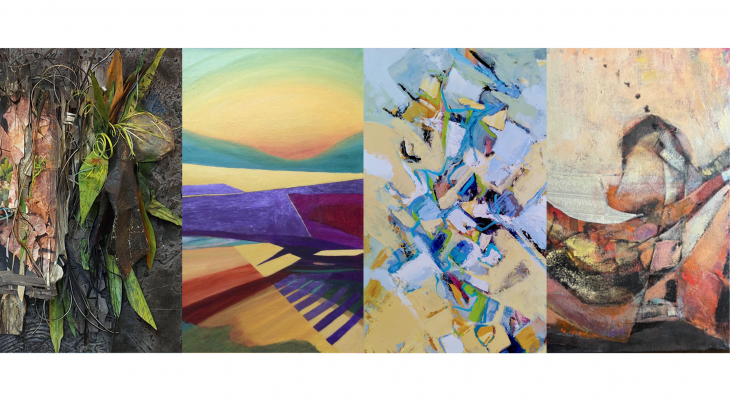 Apr
05
Pushing Boundaries
The Women's Art Association of Canada Pushing Boundaries, a group exhibition by WAAC members Susan Farquhar, Marjorie Moeser, Gillian Morden, and Wendy Weaver.
April 5 - 22, 2023
Dignam Gallery
Open to Public
Opening Reception: April 8, 1:00pm - 4:30pm
"As artists, each of our works is unique. Our styles are fluid, transmutable, and open-ended: fluid in our application of a given medium; transmutable in our style, content, palette, and media in order to explore a new visual result; open-ended in that each composition is open to as many interpretations as there are viewers. As a group of four, we are exhibiting work that shares the commonalities mentioned above. Yet, at the same time, each of us maintains her own style and handwriting, as it were.
Pushing Boundaries will show the extent to which each artist manipulates her medium, stretching it to the furthest edge."
Women's Art Association of Canada (WAAC)
DETAILS
Women's Art Association of Canada (WAAC)
416-922-2060
23 Prince Arthur Ave
Toronto ON M5R1B2
Canada
DATE & TIME
-
[ Add to Calendar ]
2023-04-05 15:00:00
2023-04-22 21:00:00
Pushing Boundaries
<h4> </h4> <h4>The Women's Art Association of Canada Pushing Boundaries, a group exhibition by WAAC members Susan Farquhar, Marjorie Moeser, Gillian Morden, and Wendy Weaver.</h4> <p><strong>April 5 - 22, 2023</strong></p> <p><strong>Dignam Gallery</strong></p> <p><strong>Open to Public</strong></p> <p><strong>Opening Reception: April 8, 1:00pm - 4:30pm</strong></p> <p> </p>
23 Prince Arthur Ave
Toronto ON M5R1B2
Canada
Bloor St. Culture Corridor
info@perceptible.com
America/Toronto
public