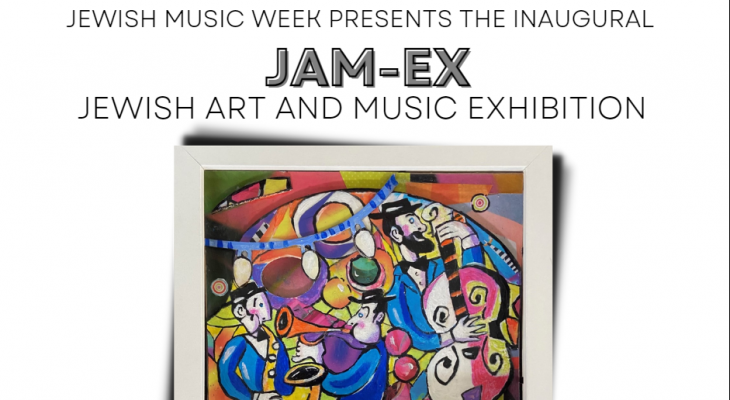 May
02
JAM-Ex in the Gallery at the J
Jewish Music Week presents the inaugural JAM-Ex Jewish Art and Music Exhibition
The Arts, in all of its forms, has always been central to our experience of Judaism and intrinsic to the vibrant expression of our identity. Exploring new ways to broaden outreach and engage Toronto's diverse Jewish community, Jewish Music Week is expanding its cultural footprint with the inclusion of this curated Shadowbox Art Exhibition as part of the 2023 festival. The exhibition will feature artworks by Jewish artists exploring Jewish musical traditions, as well as Judaic thought and teachings. The artists included in this exhibition are:
Susan Avishai Rikki Blitt Karen Chisvin Laya Crust Dorion Leibgott Ian Leventhal Haya Nativ Barbara Nightingale Sara Petroff Shoshana Rubens Melanie Siegel Reesa Wasser Lezlie Winemaker
JAM-Ex is curated by Melanie Siegel (JMW Artist-in-Residence) and Ian Leventhal, and made possible through the generosity of Wendy Posluns and Lewis Mitz. We are very grateful for their help and support! Of course, we are indebted to the creativity, vision and imagination of the artists whose work in this exhibit is an inspiration for all of us!
Aliza Spiro, Jewish Music Week Artistic Director
Miles Nadal Jewish Community Centre
DETAILS
Miles Nadal Jewish Community Centre
(416) 924-6211
750 Spadina Ave
Toronto ON M5S 2J2
Canada
DATE & TIME
-
[ Add to Calendar ]
2023-05-02 13:00:00
2023-06-04 13:00:00
JAM-Ex in the Gallery at the J
<p><strong>Jewish Music Week presents the inaugural JAM-Ex Jewish Art and Music Exhibition</strong></p>
750 Spadina Ave
Toronto ON M5S 2J2
Canada
Bloor St. Culture Corridor
info@perceptible.com
America/Toronto
public