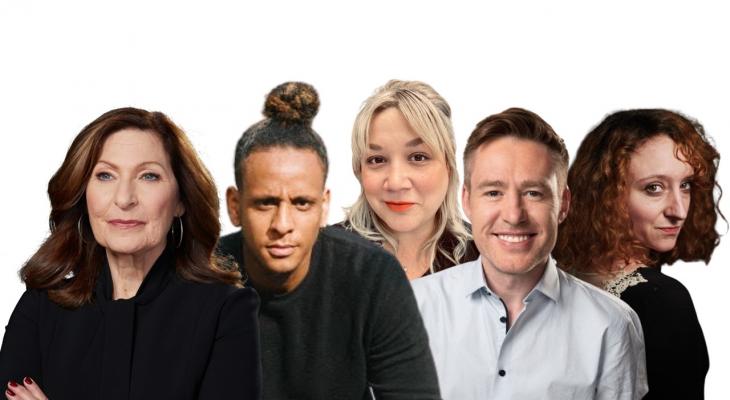 May
04
"The Story I Never Thought I Would Tell" A Night of Surprising Stories with CBC Podcasts // Hot Docs Podcast Festival Showcase
In this intimate evening of live storytelling, the stars of the CBC's hottest podcasts flip the mic on themselves, sharing personal stories they've always wanted to tell.
Hear broadcast legend Anna Maria Tremonti (Welcome to Paradise) and comedian Gavin Crawford (Let's Not Be Kidding) offer vivid accounts of the closely held secrets they struggled for years to share. Hear acclaimed playwright and Buffy host Falen Johnson (The Secret Life of Canada) and journalist Matthew Amha (The Africas vs. America) uncover hidden histories, and discuss what happens when community stories hit close to home. Watch as Kaitlin Prest, the acclaimed audio artist and beloved host of The Heart, brings a story of sisterly love—and conflict—to thrilling life in the theatre. And hear from renowned journalist Jayme Poisson (Front Burner), as she reveals what it took to go public with something that so many new parents keep hidden.
Inspired by some of the country's most lauded and popular podcasts, reinterpreted live for the Hot Docs Cinema stage, this will be a night of surprising and candid stories from Canada's most gifted audio storytellers.
Check out Hot Docs Podcast Festival Showcase lineup: https://bit.ly/3UL62FU
Tickets are on sale now. Become a Hot Docs member & save!
Hot Docs Ted Rogers Cinema
DETAILS
Hot Docs Ted Rogers Cinema
(416) 637-3123
506 Bloor St West
Toronto ON M5S 1Y3
Canada
DATE & TIME
-
[ Add to Calendar ]
2023-05-04 22:30:00
2023-05-05 00:00:00
"The Story I Never Thought I Would Tell" A Night of Surprising Stories with CBC Podcasts // Hot Docs Podcast Festival Showcase
<p>In this intimate evening of live storytelling, the stars of the CBC's hottest podcasts flip the mic on themselves, sharing personal stories they've always wanted to tell.</p>
506 Bloor St West
Toronto ON M5S 1Y3
Canada
Bloor St. Culture Corridor
info@perceptible.com
America/Toronto
public
TICKETS