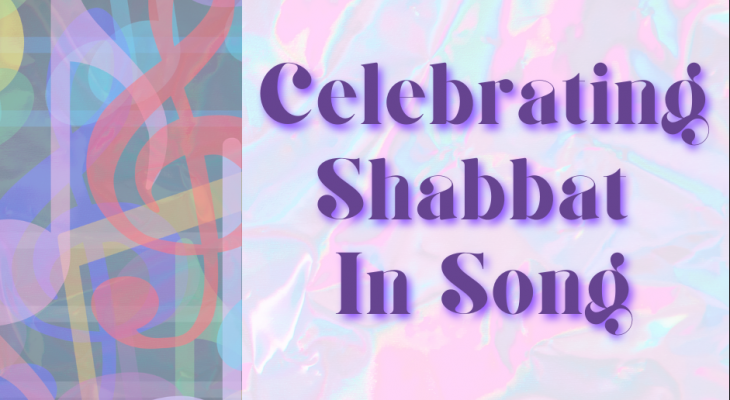 Jun
16
Celebrating Shabbat in Song
Our popular monthly Friday afternoon program returns to the Miles Nadal JCC this spring! Celebrate Shabbat in person with our community and enjoy a Jewish-themed concert, a participatory Shabbat ceremony and some traditional kosher treats. June's musical guests are Brian Katz and Jonno Lightstone.
Presented in partnership with Congregation Shir Libeynu and Grodzinski Bakery.
Spaces are limited, advance registration required by June 2.
For information, contact Lisa Roy: 416-924-6211 x6155, lisar@mnjcc.org
Jonno Lightstone is regarded as one of Toronto's finest klezmer musicians. A clarinetist who is equally at home on flute and saxophone, Jonno has performed with the touring Broadway show Evita, Zalman Mlotek's Soul to Soul and has played at many festivals including: The Toronto Ashkenaz Festival, Distillery Jazz Festival and Toronto Jazz Festival. He is the leader of the Yiddish Swingtet, the founder of Hu tsa tsa and the musical director of Klezkonnection, Canada's largest community klezmer orchestra. Jonno has given many lectures at the Miles Nadal JCC, including The Duelling Clarinetists: Benny Goodman and Artie Shaw, Are You Hep to the Jive? The Music of Cab Calloway, Music Was His Mistress: The Sophisticated Sounds of Duke Ellington, and last years's virtual lecture Songs from the Heart: The Story of Yiddish Music.
Internationally renowned guitarist, pianist, composer, educator, Brian Katz, is celebrated for his instrumental mastery and evocative compositions. Noted for his very personal weaving of modern jazz, classical, and various world music streams—especially klezmer— Brian Katz is lauded for his orchestral approach to solo guitar playing, evocative compositions, and fiery free improvisations. As a committed music educator, he holds positions at the University of Toronto and York University, where he teaches jazz, classical, music education pedagogy, various approaches to improvisation (including classical), Dalcroze Eurhythmics, and Music for Health and Wellness. Brian is pleased to present some of his Jewish-themed compositions—including uplifting nigginum (wordless melodies)—for this special presentation with long-time colleague, Jonno Lightstone. For more information about Brian, visit https://briankatz.com/  
For more information about our promotional partner, Congregation Shir Libeynu, please visit https://shirlibeynu.ca/
Miles Nadal Jewish Community Centre
DETAILS
Miles Nadal Jewish Community Centre
(416) 924-6211
750 Spadina Ave
Toronto ON M5S 2J2
Canada
DATE & TIME
-
[ Add to Calendar ]
2023-06-16 17:00:00
2023-06-16 18:30:00
Celebrating Shabbat in Song
<p>Our popular monthly Friday afternoon program returns to the Miles Nadal JCC this spring! Celebrate Shabbat in person with our community and enjoy a Jewish-themed concert, a participatory Shabbat ceremony and some traditional kosher treats. June's musical guests are <strong>Brian Katz</strong> and <strong>Jonno Lightstone</strong>.</p> <p>Presented in partnership with Congregation Shir Libeynu and Grodzinski Bakery.</p> <p>Spaces are limited, advance registration required by June 2.</p>
750 Spadina Ave
Toronto ON M5S 2J2
Canada
Bloor St. Culture Corridor
info@perceptible.com
America/Toronto
public
TICKETS