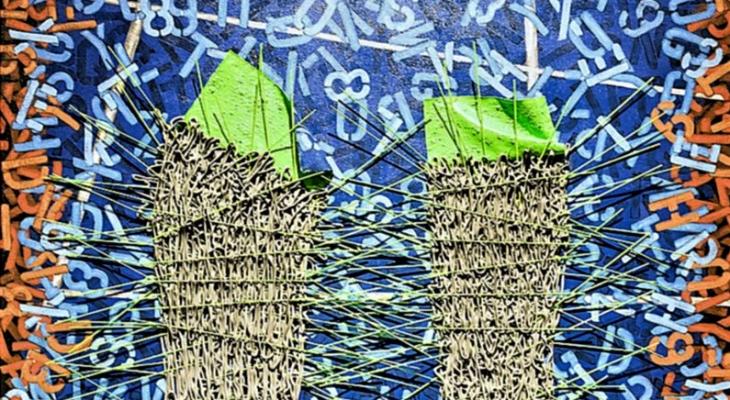 Jun
07
Exhibition | In Line - Paintings by Roberto Marra
The Consulate General of Italy in Toronto and the Istituto Italiano di Cultura Toronto present the exhibition IN LINE by Robert Marra.
The artist will be present at the opening of the exhibition on Wednesday, June 7, 2023, at 6:00PM.
The exhibition runs until July 21, 2023.
The Istituto Italiano di Cultura is open Monday to Friday from 9:00AM to 5:00PM; we are closed daily from 1:00PM to 2:00PM.
Roberto Marra Is a Toronto-born artist who has studied art in both Italy and Canada. Since the mid-1990s, he has focused on paintings that can be described as modern and contemporary. His work primarily consists of bright, dynamic abstract paintings as well as highly textured mixed media work that walks a line between sculpture and painting. Over the years, Roberto's work has been exhibited in collective and individual 'shows' in Italy and Canada. It is included in public as well as private collections and has been further included in, or on the cover of, numerous books of poetry in collaboration with the work of the authors. Roberto is also a published poet. He is the author of the long concrete poem The Word (Lyricalmyrical Press 2007) and a co-author of The Emu Dialogues (Quattro Books 2015).
Istituto Italiano di Cultura
DETAILS
Istituto Italiano di Cultura
(416) 921-3802
496 Hurron Street
Toronto ON M5R 2R3
Canada
DATE & TIME
-
[ Add to Calendar ]
2023-06-07 22:00:00
2023-07-21 21:00:00
Exhibition | In Line - Paintings by Roberto Marra
<p>The Consulate General of Italy in Toronto and the Istituto Italiano di Cultura Toronto present the exhibition <strong>IN LINE</strong> by Robert Marra.</p> <p>The artist will be present at the opening of the exhibition on Wednesday, June 7, 2023, at 6:00PM.</p> <p>The exhibition runs until July 21, 2023.</p> <p><em><strong>The Istituto Italiano di Cultura is open Monday to Friday from 9:00AM to 5:00PM; we are closed daily from 1:00PM to 2:00PM.</strong></em></p> <p> </p>
496 Hurron Street
Toronto ON M5R 2R3
Canada
Bloor St. Culture Corridor
info@perceptible.com
America/Toronto
public