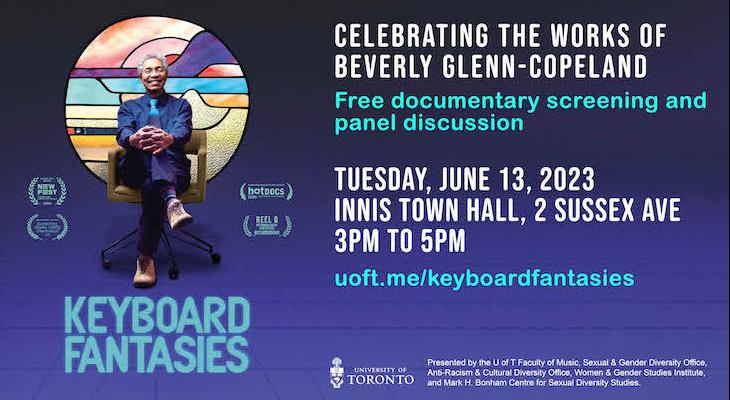 Jun
13
Keyboard Fantasies – Celebrating the Works of Beverly Glenn-Copeland
Throughout a fifty year recording career, Beverly Glenn-Copeland's music has defied categorisation and genre, its only consistency being the fusion of vision, technology, spirituality and place. A Black, trans artist, he is a strong advocate on behalf of Black, Indigenous, and LGBTQ2S+ communities in Canada and abroad, and has influenced new generations of artists.
Join us as we celebrate the extraordinary work of this visionary Black, trans artist, and University of Toronto Honorary Degree Recipient with a screening of Keyboard Fantasies, followed by a panel discussion.
Innis Town Hall (2 Sussex Ave, Toronto, ON M5S 1J5) Doors open at 2:30 pm; light refreshments will be served Registration required: https://uoft.me/keyboardfantasies Participants/audience members are requested to wear masks for the indoor portion of the event.
This event is presented by the University of Toronto Faculty of Music, Sexual & Gender Diversity Office, Anti-Racism & Cultural Diversity Office, Women & Gender Studies Institute, and Mark H. Bonham Centre for Sexual Diversity Studies.
University of Toronto Faculty of Music
DETAILS
University of Toronto Faculty of Music
(416) 978-3750
80 Queen's Park
Edward Johnson Building
Toronto ON M5S 2C5
Canada
DATE & TIME
-
[ Add to Calendar ]
2023-06-13 19:00:00
2023-06-13 21:00:00
Keyboard Fantasies – Celebrating the Works of Beverly Glenn-Copeland
<p>Throughout a fifty year recording career, <a href="https://beverlyglenncopeland.com/">Beverly Glenn-Copeland</a>'s music has defied categorisation and genre, its only consistency being the fusion of vision, technology, spirituality and place. A Black, trans artist, he is a strong advocate on behalf of Black, Indigenous, and LGBTQ2S+ communities in Canada and abroad, and has influenced new generations of artists.</p>
80 Queen's Park
Edward Johnson Building
Toronto ON M5S 2C5
Canada
Bloor St. Culture Corridor
info@perceptible.com
America/Toronto
public