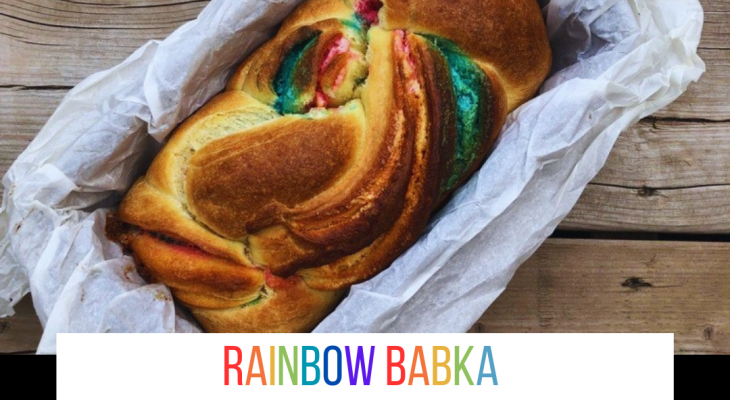 Jun
05
LGBTQ+ at the J: Rainbow Babka with Shauna Godfrey
* Participants will get the Zoom link two hours before the event begins *
Chag Pride Sameach – Happy Pride!
LGBTQ at the J launches a month of celebrations with a Babka Bake-Along led by Chef Shauna Godfrey. Amaze your friends and yourself; this sweet yeast-risen bread will surprise and delight when sliced to reveal a delectable white chocolate tahini rainbow filling.
About Shauna
Shauna Godfrey is a Chef in Toronto who trained in New York at the Culinary Institute of America and has previously worked at Momofuku (Toronto) and Atera (New York). In the fall of 2020, Godfrey's Supper Club began as a weekly pop-up serving Eastern European comfort food from Shauna's childhood. She is currently working on her own restaurant set to open in 2024 on Harbord which will have roots in her Ashkenazi heritage. 
About LGBTQ at the J
LGBTQ+ at the J strives to be the heart of Toronto's LGBTQ+ Jewish community, providing queer Jews opportunities to gather, celebrate and thrive. We aim for the full inclusion and celebration of LGBTQ+ Jews across Jewish communal institutions, in Jewish life, arts and cultural initiatives, and informal and formal education and more.
We are committed to ensuring our programming is accessible to anybody who wishes to attend. Please email LaurenS@mnjcc.org with any accessibility questions or requests and we will work together to find ways for you to join us. This event is designed and intended for members of the LGBTQ+ community and allies, whatever that means to you.
Supported by the Kolel Legacy Fund at the Jewish Foundation.
 Planning on baking along with us?  Here's what you'll need!
 Tools:
Large mixing bowl
9x5 inch loaf pan
5 small bowls
1 wooden spoon/mixing spoon
Babka Dough: (can use pizza dough as substitute-approx 450g)
1 stick (1/2 cup) unsalted butter, melted, plus more for greasing the pan
1/2 cup warm water
1/4 cup sugar
1 teaspoon salt
1 teaspoon instant yeast
2 large eggs
1 large egg yolk
2 and 3/4 cups of all-purpose flour, spooned into measuring, and leveled off, plus more for kneading and rolling
 White Chocolate Tahini Filling:
200g white chocolate chips or chopped white chocolate
8 Tbsp tahini
Food colouring
DETAILS
DATE & TIME
-
[ Add to Calendar ]
2023-06-05 23:00:00
2023-06-06 00:00:00
LGBTQ+ at the J: Rainbow Babka with Shauna Godfrey
<p>* Participants will get the Zoom link two hours before the event begins *</p> <p><strong>Chag Pride Sameach – Happy Pride! </strong></p> <p><strong>LGBTQ at the J launches a month of celebrations with a Babka Bake-Along led by Chef Shauna Godfrey. Amaze your friends and yourself; this sweet yeast-risen bread will surprise and delight when sliced to reveal a delectable white chocolate tahini rainbow filling.</strong></p> <p><strong>About Shauna</strong></p>
Bloor St. Culture Corridor
info@perceptible.com
America/Toronto
public