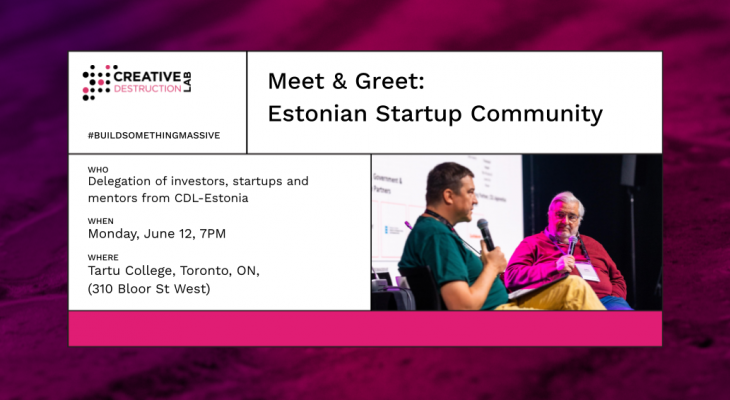 Jun
12
Meet & Greet: Estonian Startup Community
Meet & Greet: 
Estonian Startup Community
Monday, June 12 at 7:00 pm, In English
Tartu College (310 Bloor St. W., Toronto)
Register here: https://forms.gle/FBnb4X5ic9JRwjDg7
A delegation from Creative Destruction Lab Estonia will be visiting Toronto in June, and they look forward to meeting the local Estonian community and everyone else interested in innovation, entrepreneurship, and collaboration.
The Meet & Greet will feature a fireside chat by Sten Tamkivi, a seasoned tech entrepreneur and investor, and Katheron Intson, an Estonian-Canadian healthteach founder. Their conversation will be moderated by Marielle Voksepp.
The evening will conclude with plenty of opportunities to network. Info on Estonian companies participating can be found below.
Event Speakers:
Sten Tamkivi is a Founding Partner of CDL-Estonia and invests actively as a Co-founder of Plural Platform and Partner of Taavet+Sten. He was an early executive of Skype up until $8.5B exit to MSFT; co-founded Teleport that was acquired by Topia in 2017. Sten values a tolerant, open and creative society, speaks up for entrepreneurship, supports the startup movement, occasionally invests, pushes for better tech education.
Kath Intson (an Estonian Canadian) is a doctoral candidate and adjunct in pharmacology at the Temerty Faculty of Medicine. Her work with rare disease patients and social media marketing expertise lead to the creation of Varient, a digital health and techbio company that crowdsources effective treatments for rare disease patients.
Marielle Voksepp is an experienced leader, educator, and investor whose work with technology startups spans more than a decade. She has designed and delivered numerous accelerator programs and advised leading entrepreneurial support organizations across Canada including MaRS Discovery District, Futurpreneur Canada and Innovate Financial Health. As Managing Director at The Narwhal Project, Marielle advises startups on obtaining capital to fund their growth. She is also a startup coach at the University of Calgary's Hunter Hub and an active angel investor.
Participating Companies:
Location: Tartu College (310 Bloor St. W., Toronto)
Partners: KESKUS International Estonian Centre, EKN Estonian Central Council of Canada, Embassy of Estonia Ottawa, Creative Destruction Lab, Tehnopol, Latitude 44,

DETAILS
DATE & TIME
-
[ Add to Calendar ]
2023-06-12 23:00:00
2023-06-13 01:00:00
Meet & Greet: Estonian Startup Community
<p>Meet &amp; Greet: </p> <p><strong>Estonian Startup Community</strong></p> <p>Monday, June 12 at 7:00 pm, In English</p> <p>Tartu College (310 Bloor St. W., Toronto)</p> <p><strong>Register here: <a href="https://forms.gle/FBnb4X5ic9JRwjDg7">https://forms.gle/FBnb4X5ic9JRwjDg7</a></strong></p>
Bloor St. Culture Corridor
info@perceptible.com
America/Toronto
public