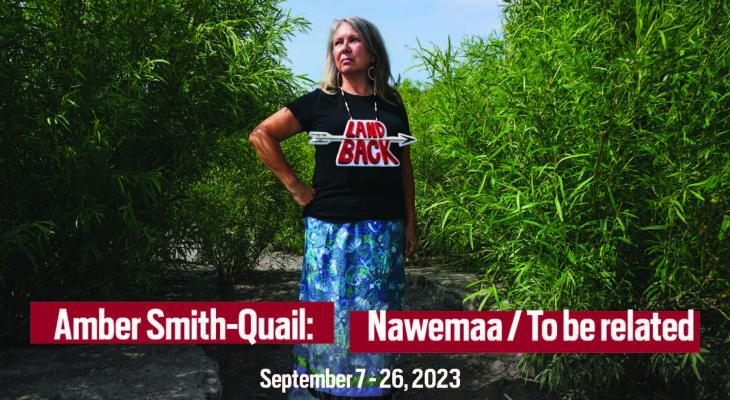 Sep
07
Amber Smith-Quail: Nawemaa / To be related
2022-2023 Artist-In-Residence Exhibition
September 7 – 26, 2023
Reception: September 9, 6pm – 9pm (RSVP Here)
DIGNAM GALLERY
Gallery Hours: Tuesday to Saturday, 11am - 5pm  
Amber Smith-Quail's solo exhibition, Nawemaa / to be related, is the result of reflection upon the truth in connections. A member of Alderville First Nation, Amber is an Indigenous artist and educator based in Tkaronto and South Algonquin. She has contemplated how imbalance – physically, mentally, spiritually and emotionally – does not act in isolation. The by-products of imbalance are felt throughout our relational chain. Somewhere along the way, the well-being of our relatives – flora, fauna, land, water, air and each other – has been forgotten. Smith-Quail's beadwork, mixed-media pieces, and paintings address the forced disconnection of First People from the land.
This exhibition is the conclusion of Amber Smith-Quail's one year term as Artist in Residence at the Women's Art Association of Canada.
Amber Smith-Quail: Nawemaa / To be related is supported by the Ontario Arts Council and Steamwhistle.
Women's Art Association of Canada (WAAC)
DETAILS
Women's Art Association of Canada (WAAC)
416-922-2060
23 Prince Arthur Ave
Toronto ON M5R1B2
Canada
DATE & TIME
-
[ Add to Calendar ]
2023-09-07 15:00:00
2023-09-26 21:00:00
Amber Smith-Quail: Nawemaa / To be related
<h3>2022-2023 Artist-In-Residence Exhibition</h3> <h3> </h3> <p><strong>September 7 – 26, 2023</strong></p> <p><strong>Reception: September 9, 6pm – 9pm (<a href="https://www.eventbrite.com/e/amber-smith-quail-nawemaa-to-be-related-tickets-698468938397?aff=oddtdtcreator">RSVP Here</a>)</strong></p> <p><strong>DIGNAM GALLERY</strong></p> <p><strong>Gallery Hours: Tuesday to Saturday, 11am - 5pm</strong>  </p> <p> </p>
23 Prince Arthur Ave
Toronto ON M5R1B2
Canada
Bloor St. Culture Corridor
info@perceptible.com
America/Toronto
public