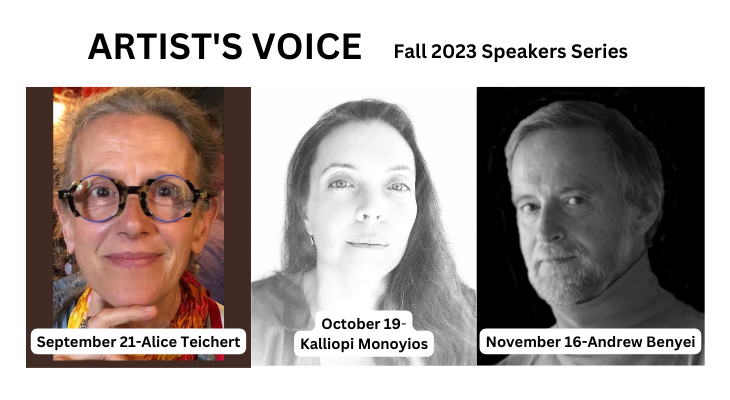 Sep
21
ARTIST'S VOICE Fall 2023 Speakers Series
ARTIST'S VOICE – Fall 2023 Speakers Series September 21, October 19 and November 18 From 1pm to 2pm via ZOOM FREE
Click here to register on Eventbrite (You will be registered for all three lectures)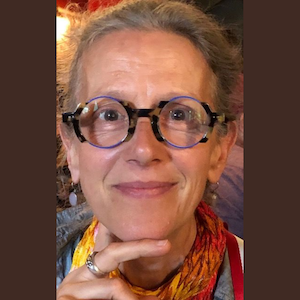 Thursday September 21—Alice Teichert
"the double page"
Multidisciplinary artist Alice Teichert will discuss her ongoing conversation with "the double page" and her experience with the non-linear realm, the overall focus of her forty-year survey exhibition at the Art Gallery of Peterborough. She will elaborate on the highlights and the bridging aspects she has been experiencing between text works ( text'paintings) and paintings, and collaborative works such as printmaking and a site specific installation piece.
Teichert studied music, philosophy, visual poetry, visual arts, and printmaking in Belgium and France. She works from her studio in Port Hope, Ontario. Since 1989, she has built an international career with exhibitions in Canada, Australia, and across Europe. Her works are held in many corporate, private, and public collections including the MacLaren Art Centre, Global Affairs Canada, the Musée de la Ville de Valence and the Museumsquartier of Lübeck.

Thursday October 19—Kalliopi Monoyios
Hope in the Plasticene
Monoyios will show her work, and address the unlikely career path that led her to believe that curiosity and wonder are the emotions to motivate action in the face of the plastic pollution problem. She collects, washes, and sews disposable food wrappers into heirloom quilts. She salvages cords and restores their dignity by literally placing them back on a pedestal as art objects. She embroiders yards of shimmering dental floss to question whether Teflon, a "forever chemical," is best used for thirty seconds between our teeth or as an archival piece of art.
Graduating from Princeton University with a degree in geology, Monoyios built her early career as a science illustrator for the prominent paleontologist Neil Shubin at The University of Chicago. She co-founded and wrote Symbiartic, a blog covering the intersection of art and science for Scientific American. Now she is developing new avenues of public engagement with conservation science via her own art and curated exhibits. Instagram: @kalliopi.monoyios

Thursday November 16—Andrew Benyei
From Clay to Bronze: Sculpture Secrets Revealed
Using visual examples, Benyei explains the process, both creative and technical, in creating his figurative works. The presentation will include sharing his challenges with dealing with clients on commissioned work.
A graduate of Ontario College of Art and Design (OCAD), Benyei and has been a successful full time sculptor and painter for over 30 years. He has been invited to make presentations of his work and do demonstrations by the University of Toronto, the Canadian Portrait Society and numerous art guilds. He has taught sculpture at Haliburton School of Art, Neilson Park and the Mississauga Sculpture Studio . Benyei is a professional member of theArts and Letters Club and a member of the Ontario Society of Artists (OSA) and Sculptor's Society of Canada (SSC).
Women's Art Association of Canada (WAAC)
DETAILS
Women's Art Association of Canada (WAAC)
416-922-2060
23 Prince Arthur Ave
Toronto ON M5R1B2
Canada
DATE & TIME
-
[ Add to Calendar ]
2023-09-21 17:00:00
2023-11-16 18:00:00
ARTIST'S VOICE Fall 2023 Speakers Series
<p><strong>ARTIST'S VOICE – Fall 2023 Speakers Series September 21, October 19 and November 18 From 1pm to 2pm via ZOOM FREE</strong></p> <p><a href="https://www.eventbrite.ca/e/artists-voice-fall-2023-speakers-series-tickets-568193771867?aff=oddtdtcreator"><strong>Click here to register on Eventbrite </strong></a>(You will be registered for all three lectures)</p> <p> </p> <p><img alt="Portrait of speaker" data-entity-type="file" data-entity-uuid="7fead5cf-8144-4538-8182-175e89cfc3e5" src="/sites/default/files/inline-images/aa4bd91d-77f5-93e0-48a7-236502f9043f_0.png" /></p>
23 Prince Arthur Ave
Toronto ON M5R1B2
Canada
Bloor St. Culture Corridor
info@perceptible.com
America/Toronto
public