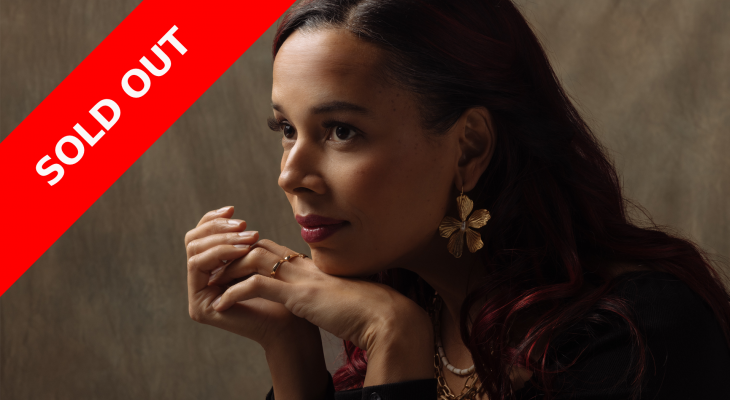 Sep
20
Rhiannon Giddens and Adia Victoria
Grammy Award-winning banjo superstar, sublime vocalist, and critics' darling, Rhiannon Giddens uses her art to excavate the past and reveal bold truths about our present. Giddens's lifelong mission is to lift up people whose contributions to American musical history have previously been erased, and to work toward a more accurate understanding of the country's musical origins. Pitchfork has said of her work, "few artists are so fearless and so ravenous in their exploration," and Smithsonian Magazine calls her "an electrifying artist who brings alive the memories of forgotten predecessors, white and black." On May 8, 2023, Giddens was awarded the 2023 Pulitzer Prize in Music for the opera Omar, which she co-wrote with Michael Abels (Get Out, Nope).
Critically acclaimed Nashville-based singer/songwriter Adia Victoria opens the evening. Born and raised in South Carolina, Victoria is known for her "gothic blues" musical style that tells stories of her life as a Southerner. Victoria's 2021 release, A Southern Gothic, featured T Bone Burnett as executive producer, and explored the relationship that many people, especially Black women, have with life in the South.
Rhiannon Giddens, banjo, viola & vocals
Attis Clopton, drums
Dirk Powell, keys, guitar, fiddle, banjo, Cajun accordion & vocals
Jason Sypher, bass
Niwel Tsumbu, guitar
Francesco Turrisi, keys, organ & piano accordion
Adia Victoria, guitar & vocals
Mason Hickman, guitar
BECOME A ROYAL SUBSCRIBER! Choose any 4 or more concerts in the 2023.24 concert season to create your ideal subscription. You will get the best available seats PLUS discounted ticket prices AND enjoy Royal Subscriber benefits!
DETAILS
(416) 408-0208
273 Bloor Street West
TELUS Centre for Performance and Learning
Toronto ON M5S 1W2
Canada
DATE & TIME
-
[ Add to Calendar ]
2023-09-21 00:00:00
2023-09-21 02:00:00
Rhiannon Giddens and Adia Victoria
<p>Grammy Award-winning banjo superstar, sublime vocalist, and critics' darling, Rhiannon Giddens uses her art to excavate the past and reveal bold truths about our present. Giddens's lifelong mission is to lift up people whose contributions to American musical history have previously been erased, and to work toward a more accurate understanding of the country's musical origins.</p>
273 Bloor Street West
TELUS Centre for Performance and Learning
Toronto ON M5S 1W2
Canada
Bloor St. Culture Corridor
info@perceptible.com
America/Toronto
public
TICKETS