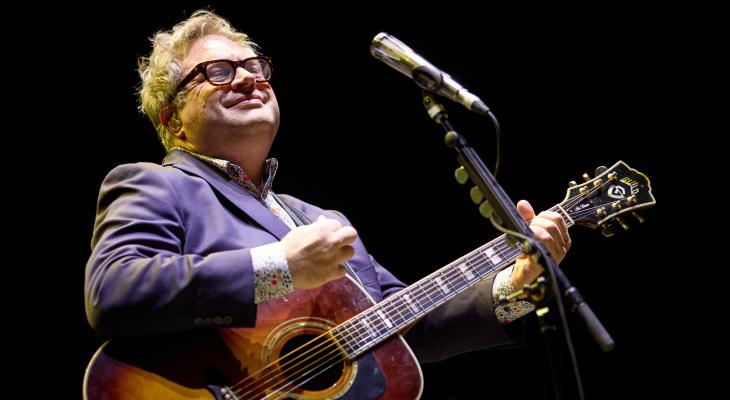 Sep
30
Steven Page with Craig Northey, Kevin Fox, and special guest Tom Wilson
Singer, songwriter, and Barenaked Ladies co-founder Steven Page performs with his trio and Canadian music legend Tom Wilson.
Steven Page's distinctive and powerful voice is among the most instantly recognizable in popular music. He is a member of the Canadian Music Hall of Fame with former bandmates, Barenaked Ladies. On his own, Page continues his artistic evolution with a diverse array of solo projects, including scores for the Stratford Festival, collaborations with Toronto's Art of Time Ensemble, solo album releases, and more. His touring ensemble, featuring Craig Northey (of the band Odds on guitar and vocals) and Kevin Fox (cello and vocals), are well known to viewers of his wildly popular virtual concert series Live From Home for their ability to accompany Page from remote locations.
A five-time Juno Award-winning musician, best selling author, and visual artist, Tom Wilson has recorded songs with Sarah McLachlan, City and Colour, Jason Isbel, Colin James, Lucinda Williams, and Mavis Staples, to name a few. His band Junkhouse scored 11 top-ten hits in the 90s, and his iconic, Americana-fuelled Blackie and the Rodeo Kings has performed on stages from the Grand Ole Opry to Massey Hall.
BECOME A ROYAL SUBSCRIBER! Choose any 4 or more concerts in the 2023.24 Concert Season to create your ideal subscription. You will get the best available seats PLUS discounted ticket prices AND enjoy Royal Subscriber benefits!
DETAILS
(416) 408-0208
273 Bloor Street West
TELUS Centre for Performance and Learning
Toronto ON M5S 1W2
Canada
DATE & TIME
-
[ Add to Calendar ]
2023-10-01 00:00:00
2023-10-01 02:00:00
Steven Page with Craig Northey, Kevin Fox, and special guest Tom Wilson
<p>Singer, songwriter, and Barenaked Ladies co-founder Steven Page performs with his trio and Canadian music legend Tom Wilson.</p>
273 Bloor Street West
TELUS Centre for Performance and Learning
Toronto ON M5S 1W2
Canada
Bloor St. Culture Corridor
info@perceptible.com
America/Toronto
public
TICKETS