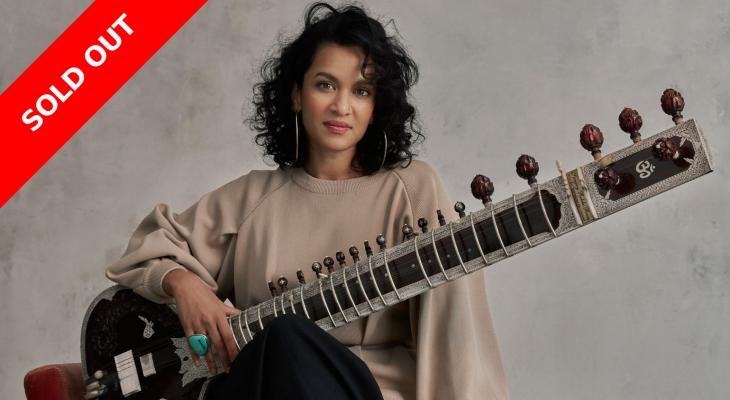 Oct
14
Anoushka Shankar
Anoushka Shankar is a singular, genre-defying artist with a list of extraordinary accomplishments - masterful sitarist, film composer, impassioned activist, the youngest and first female recipient of a British House of Commons Shield, and the first Indian woman to be nominated for the Grammy Awards.
In the fall of 2023, she brings a new quintet of musicians to North America, with whom she will perform music from her 2022 release, Between Us​.​.​., alongside thoroughly shaken-up, reinterpreted gems from her previous releases. 
The quintet comprises clarinetist Arun Ghosh, drummer-composer Sarathy Korwar, Carnatic percussionist Pirashanna Thevarajah, and bassist Tom Farmer, each of whom are startlingly talented solo artists in their own right. Premiered for the first time in India in December 2022, this quintet has been hailed as one of the best ensembles to have toured with Anoushka across her 28-year global performing career. The energy and camaraderie on stage is unmatched as Shankar leads the way in pioneering a new sound through inventive arrangements, sensitive virtuosity, and a neoclassical approach to the music tradition to which she belongs.
Anoushka Shankar, sitar
Arun Ghosh, clarinet
Tom Farmer, bass
Sarathy Korwar, drums
Pirashanna Thevarajah, Indian percussion
BECOME A ROYAL SUBSCRIBER! Choose any 4 or more concerts in the 2023.24 Concert Season to create your ideal subscription. You will get the best available seats PLUS discounted ticket prices AND enjoy Royal Subscriber benefits!
DETAILS
(416) 408-0208
273 Bloor Street West
TELUS Centre for Performance and Learning
Toronto ON M5S 1W2
Canada
DATE & TIME
-
[ Add to Calendar ]
2023-10-15 00:00:00
2023-10-15 02:00:00
Anoushka Shankar
<p>Anoushka Shankar is a singular, genre-defying artist with a list of extraordinary accomplishments - masterful sitarist, film composer, impassioned activist, the youngest and first female recipient of a British House of Commons Shield, and the first Indian woman to be nominated for the Grammy Awards.</p> <p>In the fall of 2023, she brings a new quintet of musicians to North America, with whom she will perform music from her 2022 release, <em>Between Us​.​.​.</em>, alongside thoroughly shaken-up, reinterpreted gems from her previous releases. </p>
273 Bloor Street West
TELUS Centre for Performance and Learning
Toronto ON M5S 1W2
Canada
Bloor St. Culture Corridor
info@perceptible.com
America/Toronto
public
TICKETS