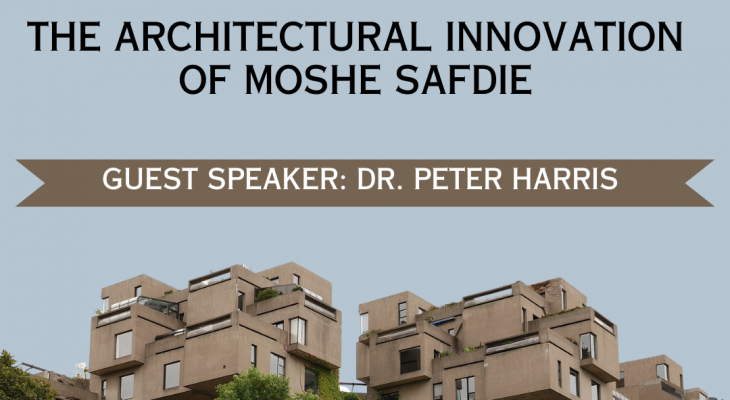 Oct
12
The Architectural Innovation of Moshe Safdie (Hybrid)
The Architectural Innovation of Moshe Safdie 
Guest speaker: Dr. Peter Harris 
Renowned Israeli-Canadian-American architect and urban planner Moshe Safdie sees architecture as "a generous act of connecting us to nature and creating meaningful spaces of community that serve as catalysts for vibrant public life." This two-part multi-access series traces that inspiring notion, from his rise to fame with Montreal's Habitat '67, to his projects in Israel, to his current international eminence and advocacy of socially responsible projects around the world. 
Thursdays: October 12 & 19
1:00-2:30pm 
Join us in-person at the Miles Nadal JCC or virtually!   
Dr. Peter Harris is the former Assistant Dean of the Faculty of Arts and Science of the University of Toronto. A former senior lecturer in the University's German Department, Dr. Harris has also served as a Special Lecturer in the new Vic One Program at Victoria College. In these different capacities, he has lectured on topics ranging from German Film to Expo '58, from the German Reichstag Building to Rosie the Riveter. Peter was the Program Coordinator and Lecturer for U of T's Later Life Learning. He has lectured for the George Brown Seniors Association, LifeLong Learning Mississauga, Bluewater Association of Lifelong Learning in Owen Sound, Life Long Learning in Retirement at Glendon College, and at Hot Docs Curious Minds series. At the Miles Nadal JCC, Peter has given the lectures From The Binoculars Building to Bilbao & Beyond: The Starchitecture of Frank Gehry, The Bauhaus:100 years of Architecture, Art and Design, The Significance of the Feldberg Collection and the virtual series Design Movements in the 19th and 20th Centuries and we are delighted to welcome him back to our building this fall! 
Miles Nadal Jewish Community Centre
DETAILS
Miles Nadal Jewish Community Centre
(416) 924-6211
750 Spadina Ave
Toronto ON M5S 2J2
Canada
DATE & TIME
-
[ Add to Calendar ]
2023-10-12 17:00:00
2023-10-19 18:30:00
The Architectural Innovation of Moshe Safdie (Hybrid)
<p>The Architectural Innovation of Moshe Safdie </p> <p>Guest speaker: Dr. Peter Harris </p> <p>Renowned Israeli-Canadian-American architect and urban planner Moshe Safdie sees architecture as "a generous act of connecting us to nature and creating meaningful spaces of community that serve as catalysts for vibrant public life." This two-part multi-access series traces that inspiring notion, from his rise to fame with Montreal's Habitat '67, to his projects in Israel, to his current international eminence and advocacy of socially responsible projects around the world. </p>
750 Spadina Ave
Toronto ON M5S 2J2
Canada
Bloor St. Culture Corridor
info@perceptible.com
America/Toronto
public
TICKETS