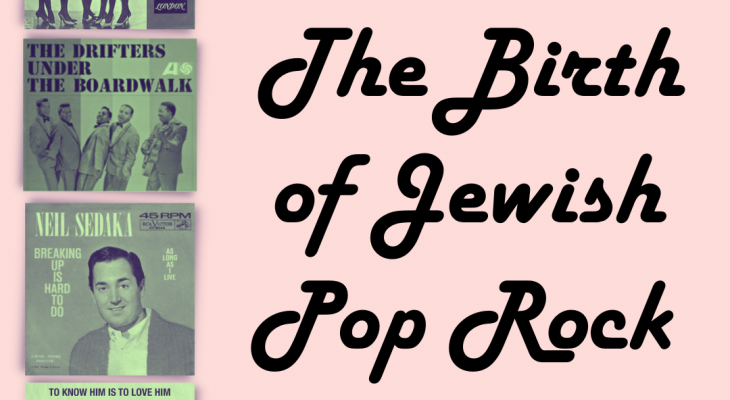 Oct
16
The Birth of Jewish Pop Rock (Hybrid)
The Birth of Jewish Pop Rock 
Guest speaker: pianist/musicologist Jordan Klapman  
In the late 1950s and early 1960s, a subgenre of pop music emerged from Manhattan's Brill Building. Teams of aspiring songwriters and producers - who were primarily Jewish - churned out catchy tunes about idealized romances and adolescent anxieties for teen heartthrobs, doo-woppers and girl groups. In this multi-access lecture series, learn about the stars who began their careers at this hit factory, including Jerry Lieber & Mike Stoller; Don Kirshner; Ellie Greenwich and Jeff Barry; Doc Pomus & Mort Shuman; Phil Spector, Neil Sedaka and Burt Bacharach. Join us in-person at the Miles Nadal JCC or virtually!
There is no class on Monday November 6.          
Don't miss our December 14 in person concert Jewish Pop Rocks in the Al Green Theatre featuring The Jordan Klapman Quintet - the perfect complement to this lecture series!
Jordan Klapman is a pianist, bandleader, music director, recording producer, and popular music educator. Since 1977, he has specialized in the performance of 20th century popular music, including ragtime, traditional jazz, Dixieland, 1920s/30s salon music, Big Band, The Great American Songbook, Broadway, and klezmer. He can be heard in music festivals, jazz clubs, concert halls, and theatres across Canada and beyond. Jordan has appeared at Roy Thomson Hall, Koerner Hall, Birdland in New York City, on CBC Radio and television, and as a radio show co-host on JazzFM with the late Jeff Healey. Jordan teaches courses on the appreciation of 20th century popular music at many adult education institutions, synagogues and Jewish organizations across the city, including of course, at the Miles Nadal JCC, where he is always a crowd favourite. MNjcc lectures have included Crazy Rhythm: The Music of the Jazz Age; Hollywood's Oscar-Winning Songs; Fascinating Rhythms: The Gershwin Brothers and He's the Top: The Sophisticated Songs of Cole Porter. Virtually, Jordan has brought us You've Got a Friend: The Hits of Carole King, as well as lecture series Broadway's Legendary Jewish Composers; Broadway Dream Teams: The Best Jewish Songwriting Partnerships; Roots, Rhythm, and Resilience: Musical Intersections of Black and Jewish Diasporas and last year's The Rat Pack: Kings of Cool, and we are delighted to welcome Jordan back in-person at the Miles Nadal JCC this fall! For more information, visit http://www.jordanklapman.com
Miles Nadal Jewish Community Centre
DETAILS
Miles Nadal Jewish Community Centre
(416) 924-6211
750 Spadina Ave
Toronto ON M5S 2J2
Canada
DATE & TIME
-
[ Add to Calendar ]
2023-10-16 17:30:00
2023-11-13 20:00:00
The Birth of Jewish Pop Rock (Hybrid)
<p>The Birth of Jewish Pop Rock </p> <p>Guest speaker: pianist/musicologist Jordan Klapman  </p>
750 Spadina Ave
Toronto ON M5S 2J2
Canada
Bloor St. Culture Corridor
info@perceptible.com
America/Toronto
public
TICKETS