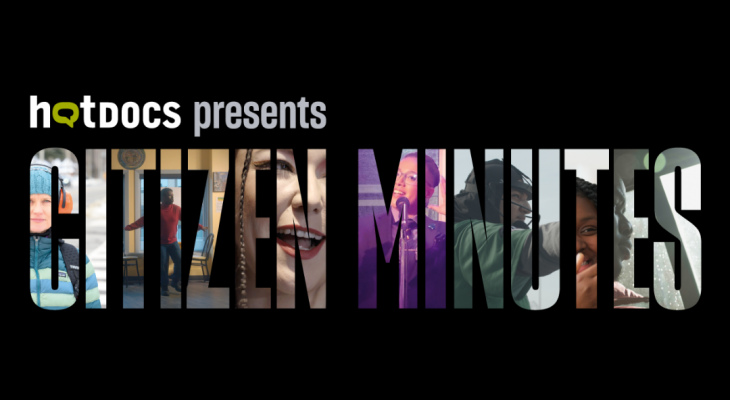 Oct
25
Citizen Minutes: An Inspiring Evening with Community Changemakers
Join us for the theatrical launch of Series 2 of the Hot Docs Citizen Minutes project with this exciting event.
Discover ordinary Canadians doing extraordinary things to make their communities better places with this big-screen experience of four Citizen Minutes films.
The program will feature the following films:
Ancestral Threads | D: Sean Stiller | 12 min
Follow designer Joleen Mitton on her mission to use fashion as medicine for Vancouver's Indigenous community.
Mind Check 1,2 1,2 | D: Ian Keteku | 10 min
Through his vulnerable art, rapper Akintoye inspires young people to use their voices to bring awareness to mental health struggles.
Sisterhood Softball | D: Farhiya Ahmed | 7.5 min
Follow the first all female Muslim softball league in North America as they empower women through sports.
Do You Hear What I Hear? | D: Cat Mills | 8 min
Fed up with sleepless nights, a couple of activists fight to change Toronto's outdated noise bylaws.
Post-screening event: Special performance by Akitonye (from Mind Check 1-2, 1-2) and panel discussion moderated by CBC host of Fresh Air Ismaila Alfa with Citizen Minutes filmmakers and changemakers!
Tickets: FREE
Presented in partnership with Tamarack Institute, Samara Centre for Democracy, Democratic Engagement Exchange (TMU), CANOO, Mosaic Institute, Big Brothers Big Sisters of Toronto, Kids Up Front Toronto, Toronto Neighbourhood Organization, Youth Wellness Lab, Skills for Change, Social Planning Toronto, Youth Rising Above, Boys and Girls Club, Toronto Foundation and Gem Mentorship.
Hot Docs Ted Rogers Cinema
DETAILS
Hot Docs Ted Rogers Cinema
(416) 637-3123
506 Bloor St West
Toronto ON M5S 1Y3
Canada
DATE & TIME
-
[ Add to Calendar ]
2023-10-25 22:30:00
2023-11-26 01:30:00
Citizen Minutes: An Inspiring Evening with Community Changemakers
<p>Join us for the theatrical launch of Series 2 of the Hot Docs <strong><a href="https://hotdocs.ca/industry/film-funds/citizen-minutes">Citizen Minutes</a></strong> project with this exciting event.</p> <p>Discover ordinary Canadians doing extraordinary things to make their communities better places with this big-screen experience of four Citizen Minutes films.</p> <p>The program will feature the following films:</p> <p><strong><em>Ancestral Threads</em></strong> | D: Sean Stiller | 12 min</p>
506 Bloor St West
Toronto ON M5S 1Y3
Canada
Bloor St. Culture Corridor
info@perceptible.com
America/Toronto
public