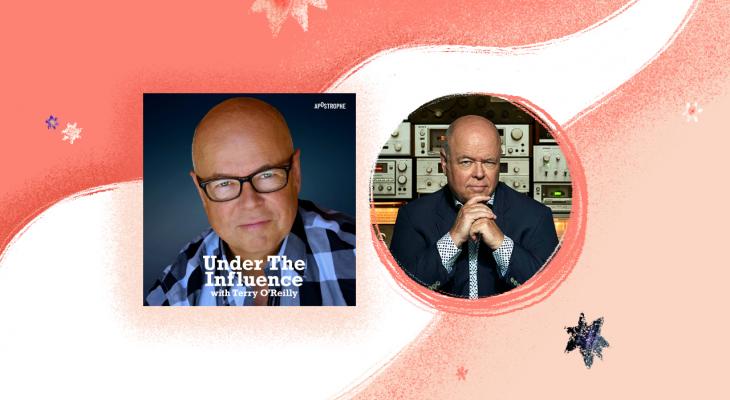 Oct
22
Hot Docs Podcast Festival: Under The Influence with Terry O'Reilly
Hot Docs Podcast Festival: See your favourite podcasts live on stage.
One of Apple Podcasts Top Shows and Most-Followed Shows of 2022, Terry O'Reilly's pioneering podcast Under The Influence has over 7.5 million annual listeners in Canada.
At this year's festival, host O'Reilly will dazzle audiences with live storytelling, rich audiovisual excerpts from the history of advertising, special guests on stage and, of course, his trademark wit and wisdom. Plus, you won't want to miss the podcast's house band playing the theme—every element of the episode will be performed live!
Don't miss this chance to peek behind the curtain at a live recording for an upcoming Under The Influence episode.
Pull back the curtain on the creativity and business savvy behind some of the world's most influential ads—and the making of one of North America's most influential podcasts.
Tickets: $36 (Members from $32.40)
We have Hot Docs Podcast Festival passes for podcast lovers of all types. Explore pass options >>
Podcast makers of all experience levels are invited to our two-day Creators Forum.
Hot Docs Ted Rogers Cinema
DETAILS
Hot Docs Ted Rogers Cinema
(416) 637-3123
506 Bloor St West
Toronto ON M5S 1Y3
Canada
DATE & TIME
-
[ Add to Calendar ]
2023-10-22 17:00:00
2023-10-22 19:00:00
Hot Docs Podcast Festival: Under The Influence with Terry O'Reilly
<p><strong><a href="https://hotdocs.ca/festivals/podcast-festival">Hot Docs Podcast Festival</a></strong>: See your favourite podcasts live on stage.</p> <p>One of Apple Podcasts Top Shows and Most-Followed Shows of 2022, Terry O'Reilly's pioneering podcast <strong>Under The Influence</strong> has over 7.5 million annual listeners in Canada.</p>
506 Bloor St West
Toronto ON M5S 1Y3
Canada
Bloor St. Culture Corridor
info@perceptible.com
America/Toronto
public