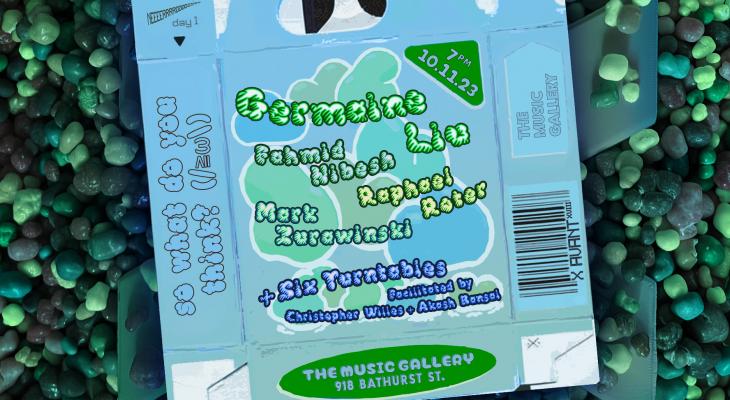 Oct
11
so what do you think? (∕≧ω\)
Kicking off X Avant XVIII: Neeeerrrrddddsss is a night dedicated to local nerdery. Headlining the night is a Music Gallery commission using Nerds candy as the main instrument from Germaine Liu titled "We Made This With Love." This two part experience features an a/v piece as well as a live sound performance blending percussion, costumes, and experimental choreography. These presentations will be co-created and performed with Fahmid Nibesh, Raphael Roter, and Mark Zurawinski.
Throughout the evening find a sound performance and installation in the gallery room entitled Six Turntables. This project is the culmination of a series of sound-art workshops organized by Christopher Willes and in collaboration with Akash Bansal at the Toronto Public Library and The Music Gallery between 2017-2023.
A group of young artists are brought together to listen to, reflect on and remix recordings of 1970's "Canadian" avant-garde music found in the Toronto Reference Library's vinyl record collection––including some recordings from the Music Gallery Editions label. Drawing techniques of early electronic music, sonic meditation, turntablism, and Fluxus event scores, the workshops explore practices of collective listening that treat records not as commodity objects but as shared experiences.
Developed with the support of the Canada Council for the Arts, the Toronto Arts Council – Artists in the Library Program (2017-23). Produced by Christopher Willes, in partnership with Public Recordings.
DETAILS
DATE & TIME
-
[ Add to Calendar ]
2023-10-12 00:00:00
2023-10-12 02:30:00
so what do you think? (∕≧ω\)
<p>Kicking off X Avant XVIII: Neeeerrrrddddsss is a night dedicated to local nerdery. Headlining the night is a Music Gallery commission using Nerds candy as the main instrument from Germaine Liu titled "We Made This With Love." This two part experience features an a/v piece as well as a live sound performance blending percussion, costumes, and experimental choreography. These presentations will be co-created and performed with Fahmid Nibesh, Raphael Roter, and Mark Zurawinski.</p>
Bloor St. Culture Corridor
info@perceptible.com
America/Toronto
public
TICKETS
Member Discount
Special Offer
Under $30