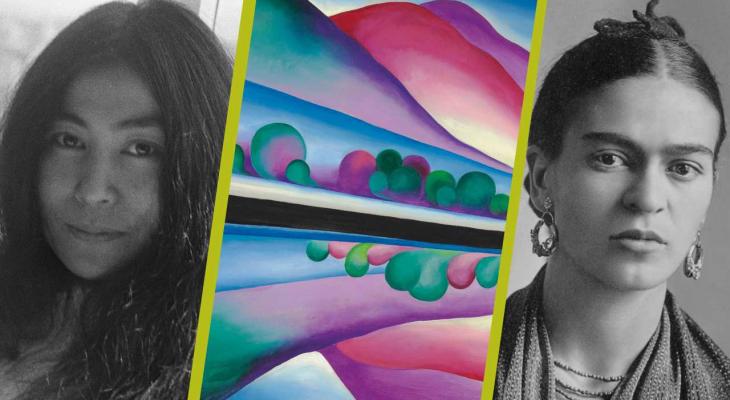 Jan
30
Curious Minds Courses: The Women Who Made Modern Art
Mondays, January 30 - March 13, 1:00 PM - 3:00 PM | REGISTER NOW
*Please note, there is no class on Monday, February 20th due to the Family Day civic holiday.
Enhanced health & safety protocols in place for all in-person Curious Minds courses, including mandatory masking (except while eating or drinking) and physically distanced seating. Registration is limited!
Relegated for too long to the sidelines of art history, women artists have been integral to the story of modern art. In this new series from Curious Minds favourite Barbara Isherwood (The Great Photographers, The Art of Picasso), we will explore—and celebrate—the achievements of those determined women who surmounted numerous obstacles to realize their creative visions.
From the soaring artworks of cultural icons like Georgia O'Keeffe, Emily Carr, Frida Kahlo and Yoko Ono, to the rich contributions of previously under-recognized artists whose legacies are finally being acknowledged, prepare to be amazed! Meet the inspiring women who made modern art.
This series is led by art critic and art historian Barbara Isherwood, the host of ArtSync TV and a frequent lecturer at the School of Continuing Studies, University of Toronto. An energetic educator who brings infectious passion and clear-eyed analysis to history's greatest artworks, Barbara has led the popular Curious Minds courses The Art of Picasso, The Great Old Masters, The Great Photographers and The Art of Living: The History of Interior Design.
Course Registration: $69 (Hot Docs Members: $60, $48, Free)
Hot Docs Ted Rogers Cinema
DETAILS
Hot Docs Ted Rogers Cinema
(416) 637-3123
506 Bloor St West
Toronto ON M5S 1Y3
Canada
DATE & TIME
-
[ Add to Calendar ]
2023-01-30 18:00:00
2023-03-13 19:00:00
Curious Minds Courses: The Women Who Made Modern Art
<p><strong>Mondays, January 30 - March 13, 1:00 PM</strong> <strong>- 3:00 PM | <a href="https://boxoffice.hotdocs.ca/websales/pages/entrypoint.aspx?guid=6e8d130c-05bc-47b2-9425-f91cddbcbb0e&amp;">REGISTER NOW</a></strong></p> <p><strong><em>*Please note, there is no class on Monday, February 20th due to the Family Day civic holiday.</em></strong></p> <p><strong><em>Enhanced health &amp; safety protocols in place for all in-person Curious Minds courses, including mandatory masking (except while eating or drinking) and physically distanced seating. Registration is limited!</em></strong></p>
506 Bloor St West
Toronto ON M5S 1Y3
Canada
Bloor St. Culture Corridor
info@perceptible.com
America/Toronto
public