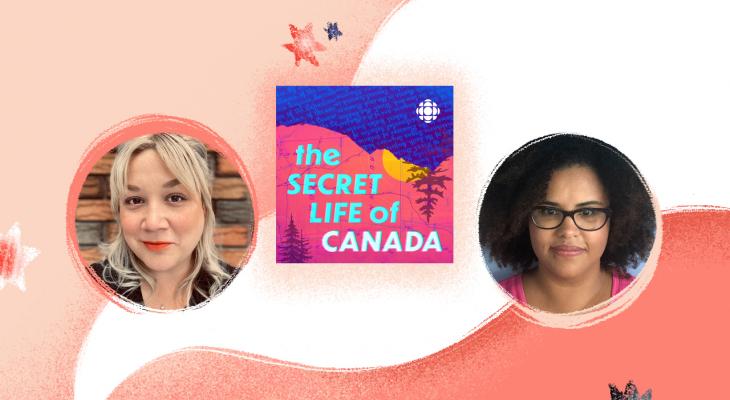 Oct
21
Hot Docs Podcast Festival: The Secret Life of Canada
Hot Docs Podcast Festival: See your favourite podcasts live on stage.
It's the show Dan Savage calls "consistently wonderful," and every historian (and would-be historian) from ages nine to 99 can't get enough of: The Secret Life of Canada is returning to Hot Docs Podcast Festival!
Join beloved hosts Falen Johnson and Leah-Simone Bowen for a live show on the beautiful, weird and terrible things you didn't learn in high school, paired with their sharp, observant and hilarious commentary.
Tickets: $33 (Members from $29.70)
We have Hot Docs Podcast Festival passes for podcast lovers of all types. Explore pass options >>
Podcast makers of all experience levels are invited to our two-day Creators Forum.
Hot Docs Ted Rogers Cinema
DETAILS
Hot Docs Ted Rogers Cinema
(416) 637-3123
506 Bloor St West
Toronto ON M5S 1Y3
Canada
DATE & TIME
-
[ Add to Calendar ]
2023-10-21 17:00:00
2023-10-21 19:00:00
Hot Docs Podcast Festival: The Secret Life of Canada
<p><strong><a href="https://hotdocs.ca/festivals/podcast-festival">Hot Docs Podcast Festival</a></strong>: See your favourite podcasts live on stage.</p> <p>It's the show Dan Savage calls "consistently wonderful," and every historian (and would-be historian) from ages nine to 99 can't get enough of: <strong>The Secret Life of Canada</strong> is returning to Hot Docs Podcast Festival!</p>
506 Bloor St West
Toronto ON M5S 1Y3
Canada
Bloor St. Culture Corridor
info@perceptible.com
America/Toronto
public